---

ArtsEmerson: The World On Stage
Returns For 2011-2012 Season
With Productions From
Australia, Ireland, Kuwait and More
Riding the crest of its critically-acclaimed inaugural 2010-2011 season, ArtsEmerson has unveiled its second theater season set to include international productions featuring Laurie Anderson, John Malkovich, Mabou Mines, Civilians, and Sulayman Al-Bassam Theatre, among others. Tickets for all productions are on sale now.
ArtsEmerson Executive Director Rob Orchard commented, "These 15 works feature striking spectacle and stirring music and sound, yet their rich storytelling is what I find most compelling. They have intrigued and delighted audiences across the globe and now for the first time they will be seen in Boston."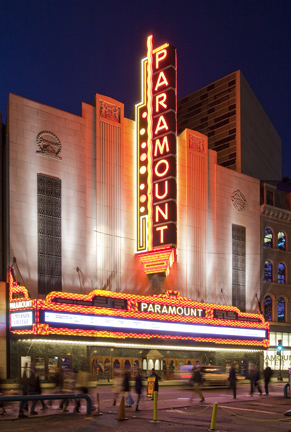 2011-2012 Theater Season:
September 13 - 25, 2011
"How Much Is Enough: Our Values in Question"
The Foundry Theatre
World Premiere
Written by Kirk Lynn
Co-Created by Melanie Joseph
The Jackie Liebergott Black Box at the Paramount Center
Foundry Artistic Producer Melanie Joseph and Rude Mechs Co-Producing Artistic Director and playwright Kirk Lynn are making a new theatrical piece exploring the concept of "value" in all its poetic iterations: quantitatively through people's relations to money and qualitatively by asking what they hold dear." Asking" is the operative word since the play itself will actually be built out of questions posed by performers to audience members about how they've lived their lives, what plans they've made for the future and what advice they can offer as we all attempt to create lives of value.
September 27 - October 2, 2011
"Delusion"
Boston Premiere
Laurie Anderson
Written and performed by Laurie Anderson
Paramount Mainstage
At the heart of "Delusion," an evening of Laurie Anderson's personal meditations on life, language, memory and identity, is the belief that words and stories can create the world as well as make it disappear. A stunning collage of visual imagery, electronic soundscape and spoken vignettes are combined to form the poetic language that has become Anderson's trademark.
September 29 - 30, 2011
"The Infernal Comedy"
U.S. Premiere
John Malkovich
Written and directed by Michael Sturminger
With Musica Angelica Orchestra
Cutler Majestic Theatre
A cross between chilling crime drama and Baroque opera, with a live orchestra on period instruments, "The Infernal Comedy" is based on the life story of twice-imprisoned serial killer Jack Unterwegger (played by Malkovich). Mysteriously back from the grave for an autobiographical book tour, Unterwegger oozes disconcerting charm as he narrates his sordid and shocking history. Each chapter concludes with an aria -- eight in all -- from Gluck, Mozart, Haydn, Vivaldi and more, sung live by five sopranos all too tempting prospects for Unterwegger's bloodlust.
October 12 - 16, 2011
"The Speaker's Progress"
New England Premiere
Inspired by Shakespeare's "Twelfth Night"
Sulayman Al-Bassam Theatre
Written and directed by Sulayman Al-Bassam
Performed in English and Arabic with English supertitles
Paramount Mainstage
In a totalitarian state somewhere in the Arab World, all forms of theatre have been banned, but a condemned 1960's classic play has become the focal point for resistance blogs and underground, dissident Twitter movements. "The Speaker's Progress" uses "Twelfth Night" as a starting point to explore events in the Middle East, transforming Shakespeare's comedy into a satire on the decades of political inertia that have fed recent revolts across the Arab region and a daring theatrical metaphor for the mechanisms of dissent.
October 25 - 30, 2011
"You Better Sit Down: Takes From My Parents' Divorce"
Boston Premiere
The Civilians
Paramount Mainstage
Crafted from interviews the cast conducted with their own parents, "You Better Sit Down" is a heartbreaking and hilarious account of the parents' marriages and their subsequent divorces. These delicate parent-child conversations have yielded unique insights into falling in love, falling out of love, and rebuilding a life after the complex experience of dividing a family. A coda will be added featuring young artists from Emerson College exploring what "home" means to them.

November 1 - 6, 2011
"Mabou Mines Dollhouse"
Boston Premiere
Adapted from "A Doll's House" by Henrik Ibsen
Mabou Mines
Directed by Lee Breuer
Adaptation by Lee Breuer and Maude Mitchell
Cutler Majestic Theatre
The dollhouse is a man's world and only doll-like women, who allow their men to feel grand, can hope to live in it. You may think you've seen Ibsen's "A Doll's House," but acclaimed director Lee Breuer gives this world of patriarchy and pretense a new twist -- the all-powerful male characters are less than 4 feet tall. The women are all 6 feet tall. Here Ibsen's feminism is metaphorically rendered as a parable of scale, and this unusual take on the physical world of the play results in startling insights and unexpected humor. The production contains nudity.
November 7 - 12, 2011
"Moby Dick"
Boston Premiere
Gare St. Lazare Players Ireland
Written by Herman Melville
Adapted by Conor Lovett & Judy Hegarty Lovett
Directed by Judy Hegarty Lovett
Performed by Conor Lovett
Music performed by Martin Lewis
"The Jackie" Black Box at the Paramount Center
Herman Melville's whirling, eddying tale is engrossing, from the wary description of Ishmael's seedy lodgings in New Bedford, MA, to his picture of the maelstrom which churns the cursed Pequod to its watery grave. Catching the mischievous humor and wisdom of Ishmael's commentary, Lovett will spin a spellbound version of this classic tale of a mythic sea monster, the vengeful Captain Ahab, and their epic ocean journey.
November 15 - 20, 2011
"Angel Reapers"
Boston Premiere
A Shaker musical
Martha Clarke and Alfred Uhry
Directed and Choreographed by Martha Clarke
Written by Alfred Uhry
With traditional Shaker hymns
Cutler Majestic Theatre
Pulitzer, Tony and Academy Award winning writer Alfred Uhry and MacArthur genius director/choreographer Martha Clarke collaborate on a piece that combines traditional Shaker music with tales of sexual repression to tell a "history-based" story. This is a lively song and dance piece inspired by the life of Ann Lee. Mother Ann, as she came to be known, was a visionary, mystic and powerful spiritual leader. Her categorical denial of sexuality and determination to erase it from herself and her followers inspires the stunning, rhythmic and often hilarious choreography. This multi-disciplinary piece is not biographical in the usual sense, but more loosely constructed, slipping in and out of reality and embracing Ann's visions and those of her followers. The production contains nudity.
January 20 - 29, 2012
"Sugar"
World Premiere
Robbie McCauley
Written and performed by Robbie McCauley
Directed by Maureen Shea
Produced in collaboration with the Performing Arts Department at Emerson College
"The Jackie" Black Box at the Paramount Center
This is about much more than a medical condition. "Sugar" is a metaphor and a reality related to race, class, gender, and health. Robbie McCauley's one-woman show brings together storytelling, social commentary and interactive dialogue on the subject of diabetes and health care disparities. Post-performance conversations will be organized and hosted by Artists in Context. An Obie Award-winning playwright and a nationally recognized performance artist and director, Robbie McCauley is a professor in the Performing Arts Department at Emerson College.
February 7 - 12, 2012
"69žS."
World Premiere
The Shackleton Adventure
Phantom Limb Company
Created by Phantom Limb
Choreographed by Christopher Williams
Directed by Sophie Hunter in Association with Tony Taccone
Music by The Kronos Quartet
Conceived in Collaboration with David Harrington/Kronos Quartet
Paramount Mainstage
Phantom Limb's "69žS." imagines the unimaginable. Sir Ernest Shackleton's 1914 trans-Antarctic expedition -- the real life story of a group of gentlemen frozen (literally) in crisis -- is re ignited by a contemporary dilemma: the realities of a changing environment and the planet's uncertain future. Theatre, dance, puppetry, photography, and film unite in an impressionistic and evocative series of tableaux vivants, taking audiences on an artistic and emotional journey that explores the symbiotic relationship between humans and the environment.
February 29 - March 4, 2012
"Circa"
New England Debut
Circa
Presented in association with Celebrity Series of Boston
Paramount Mainstage
Beauty, love and various shades of human connection are expressed in a thrilling spectacle of acrobatics. With no elaborate sets, gymnastics contraptions or animal acts, the dynamic tumblers of Circa, a seven-performer troupe from Brisbane, Australia, use their own bodies and mesmerizing skills to conjure an air of classic circus showmanship with a touch of Vaudeville. "Circa" is a high-energy journey that strips acrobatics and movement down to their heart-stopping essentials.
March 13 - 18, 2012
"Ameriville"
Boston Premiere
Universes
Paramount Mainstage
"Ameriville," a collision of storytelling, spoken word and the infectious rhythms of jazz, gospel and hip hop, redefines the concept of "musical theater." The viscerally energetic and diverse young team, Universes, puts the state of the union under the microscope, spinning themes of race, poverty, politics, history, and government. Examining our country through the lens of Hurricane Katrina and its aftermath through a modern-day variety show, the piece branches out from stories of post-Katrina New Orleans to the rest of the United States, giving voice to disenfranchised groups and articulating not just the difficulties but the underlying strength within America.
March 24 - April 1, 2012
"The Andersen Project"
Boston Premiere
Ex Machina/Robert Lepage
Written and Directed by Robert Lepage
Performed by Yves Jacques
Cutler Majestic Theatre
In this off-the-wall, frequently comic masterpiece by theatre visionary Robert Lepage, Yves Jacques ("Far Side of the Moon") stars as a Canadian rock-'n-roll writer who is unexpectedly commissioned by the Opéra Garnier in Paris to write a libretto for a children's opera. Arriving in Paris, he discovers that his living quarters are on the fourth floor of a building that is also home to a peep show, frequented by the Opéra Garnier's administrator. Freely inspired by the timeless fables written by Hans Christian Andersen (who as it turns out, didn't really like children), as well as anecdotes from the author's personal diaries, "The Andersen Project" explores unraveling relationships, personal demons, the thirst for recognition, and compromise that comes too late.
March 29 - April 1, 2012
"Tome Kubinek: Certified Lunatic & Master of The Impossible"
Boston Premiere
Paramount Mainstage
A collision of theatre and music-hall, this exuberant spectacle is equal parts comic brilliance, virtuosic vaudeville and irresistible charm. Czech-born Tom Kubínek's internationally acclaimed performances play to packed theaters around the world. He is a self-proclaimed physical poet and verbal acrobat, needless risk-taker, professor of fantastically useless inventions, arduous advocate of the commonplace miracle, certified lunatic, and master of the impossible.
April 13 - 22, 2012
"Cafe Variations"
World Premiere
Song, Movement and Conversation
SITI Company
Directed by Anne Bogart
Written by Charles Mee
Produced in collaboration with the Performing Arts Department at Emerson College Cutler Majestic Theatre
In this world premiere celebration of café culture, vignettes from Charles Mee's "Café Plays" are combined with music from the American musical songbook under the hand of director Anne Bogart. Incorporating dialogue, music and dance, members of Bogart's acclaimed SITI Company in residence at ArtsEmerson will join forces with young artists -- the stars of tomorrow from Emerson -- to render the romantic scenes and philosophical characters ubiquitous to the lively world of the café.
ArtsEmerson: The World On Stage is an arts organization established by Emerson College, committed to presenting legendary and pioneering artists from throughout the world. ArtsEmerson programs include culturally enriching theater, film and music, all presented in Emerson's venues in the heart of Boston's Theatre District: the Cutler Majestic Theatre, the Paramount Mainstage, the intimate Jackie Liebergott Black Box Theatre ("The Jackie"), and the Bright Family Screening Room (the latter three all located within the Paramount Center).
For tickets and information about membership, call 617-824-8400 or visit www.ArtsEmerson.org.
Photo: P. Vanderwarker