Disney's "Tarzan"
Swings Into North Shore Music Theatre
July 12 - 24
North Shore Music Theatre in Beverly will present the world premiere of a new version of the Disney musical, "Tarzan," from July 12 - 24. The production will be directed by Bill Castellino in his NSMT directing debut. Choreography will be by Josh Bergasse, who is currently choreographer for the upcoming NBC series "Smash," detailing the creation of a fictional Broadway musical about Marilyn Monroe.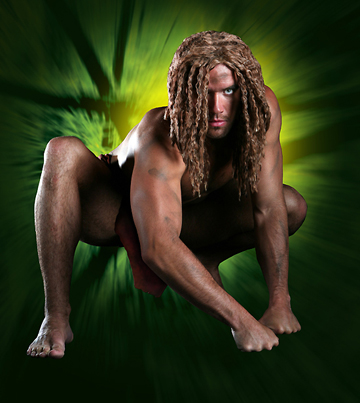 "Tarzan" tells the classic tale of a shipwreck that leaves an infant boy orphaned on the shores of West Africa. The helpless child is adopted and raised by the mate of the leader of a tribe of gorillas who's grieving the loss of her own baby. As he grows and matures, the boy yearns not only for acceptance from his ape father but to discover the reason for his uniqueness. Eventually he encounters his first human -- Jane Porter, a curious young explorer -- and all of their worlds are transformed.
From the family entertainment masters who brought "The Lion King," "Beauty & The Beast" and "Mary Poppins" to the stage, "Tarzan" originally swung through the jungles of Broadway in 2009.
Tony Award winner David Henry Hwang, who wrote the musical's book based on both the 1999 Disney film and the original Edgar Rice Burroughs story Tarzan of the Apes, will be working with NSMT to revise the Broadway script for future productions. NSMT's production will also feature a new 14-piece orchestration of the Oscar and Grammy Award-winning score by Phil Collins.

North Shore's owner and producer Bill Hanney commented, "I am very excited that Disney has allowed North Shore Music Theatre to be the birth place of this new version of their musical, 'Tarzan.' Our audiences will delight in a unique environmental production 'Tarzan' is a great adventure story, but also beautiful story of family, love and acceptance."

The cast of "Tarzan" will be led by Broadway's Brian Justin Crum (above) as Tarzan. Brian's Broadway credits include the 2010 Pulitzer Prize-winning "Next to Normal," "Grease," and "Wicked." He'll be joined by Andrea Goss as Jane Porter. Andrea was a member of the final cast of Broadway's "Rent."

Also featured will be Eric Collins, Todd Allen Johnson, Christopher Messina, Robyn Payne, and Jay Russell.
The cast of 18 will be completed by Matthew Bauman, Kristine Bendul, Ven Daniel, Jessica Dillan, Gregory Haney, Sarah Marie Hicks, Vashty Mompoint, Marcus Shane, and Drew J. Shuler. Two local children are also included in the cast. Gloucester resident Jack Favazza will play Young Tarzan and Lowell resident Sebastian Hoffman will be in the ensemble.
Additional Free Audience Enrichment events:
Meet the Theatre:
July 19, following the 7:30 p.m. performance.
July 23, following the 2 pm performance.
Enjoy a post-show discussion with the artists.
OUT at the North Shore
July 21, following the 7:30 p.m. performance.
An evening for the gay and lesbian community with a post-show reception.
(Sponsored in part by Ryan & Wood Inc. Distilleries and Sparkling Soirées.)

For tickets and information, stop by the box office at 62 Dunham Road in Beverly, call 978-232-7200 or visit visit www.nsmt.org.
Photo: Paul Lyden
-- OnStage Boston