---

Off-Broadway Hit
"Matt And Ben"
At Central Square Theatre
Next up at Central Square Theater is "Matt And Ben," the gender-bending Off-Broadway hit about Boston's own hometown boys. Written by Mindy Kaling (of NBC's The Office) and Brenda Withers, the comedy features Marianna Bassham and Philana Mia. M. Bevin O'Gara directs the production, set to run from July 7 - August 14.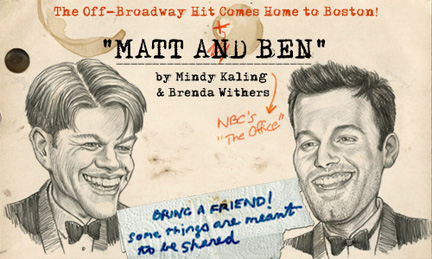 So here's the backstory: Best buds from Cambridge write a screenplay, star in the hit movie, win the Academy Award, and suddenly the world can't get enough of them. But what's the real story behind Matt Damon and Ben Affleck's breakout success? Can fame literally land in your lap? "Matt And Ben" comes home to Cambridge for a sharp skewering of celebrity culture and an affectionate look at Boston's favorite bromance.

When "Good Will Hunting" captured the 1998 Oscar for Best Original Screenplay before 1 billion television viewers, Matt Damon and Ben Affleck rocketed from struggling young actors to household names and icons of hard-earned success. They had made their own way, penning a script with roles for themselves, forever changing their lives.

Fast-forward to the summer of 2001. Recent Dartmouth College graduates Mindy Kaling and Brenda Withers are camped out in their apartment in Astoria trying to beat the heat wave. They notice that Ben Affleck's face is on the cover of almost every tabloid on the newsstands. Immersing themselves in the gossip, they realize with curiosity that Damon and Affleck had not shown screenwriting promise before "Good Will Hunting." So how'd they do it? Around this skepticism they begin to improvise the plot for their own artistic vehicle, featuring Kaling as Ben and Withers as Matt.

"Matt And Ben" had its world premiere at the New York Fringe Festival in 2002, where it won "Best in Fringe" (Best Overall Production). In 2003, it began a successful Off-Broadway run, where it was named one of Time magazine's "Top Ten Theatrical Events," was on Rolling Stone's "Hot List," and was the only play invited to appear at the HBO sponsored U.S. Comedy and Arts Festival in Aspen. Since then, the play has been produced extensively around the United States and abroad.
Born in Cambridge, Mindy Kaling graduated from Dartmouth College in 2001. She has appeared in such movies as "The 40 Year Old Virgin," "Night at the Museum" and "No Strings Attached." Since 2005, she has been a writer, co-executive producer and actor on NBC's critically acclaimed television show, "The Office," for which she has won a Writers Guild Award, two Screen Actors Guild Awards and a 2006 Emmy Award. Her new book, Is Everyone Hanging Out Without Me? (And Other Concerns), comes out at the end of 2011.

Brenda Withers grew up in Long Island, New York, and graduated from Dartmouth College in 2000. She has appeared on such television shows such as "Law and Order: Criminal Intent" and "The Office." Her theater credits include productions of "Pride and Prejudice," "Crimes of the Heart " and "The Philadelphia Story." Withers is company member and playwright at the Wellfleet Harbor Actors Theatre (WHAT) in Wellfleet. Her play "The Ding Dongs or What is the Penalty in Portugal?" will premiere at the WHAT Harbor Stage this September.

"Matt And Ben" is the second Central Square Theater production to be produced under the auspices of the organization's Leadership Program, which engages our region's brightest emerging artists for dynamic collaborations on professional stage productions. .

Marianna Bassham returns to Central Square Theater having previously appeared in The Nora Theatre Company's "Not Enough Air." She has also been seen in : "Othello" (Commonwealth Shakespeare Company); "Blackbird" (Elliot Norton Award for Outstanding Actress), "In the Next Room (or the vibrator play)" and "Reckless" (SpeakEasy Stage Company); "Little Black Dress" by Ronan Noone (Boston Playwrights' Theatre); "A Streetcar Named Desire," "Silence," "Tartuffe," "Picasso at the Lapin Agile" and "Quills" (New Repertory Theatre).

Philana Mia is making her debut with Central Square Theater. She has been seen recently in "Dog Sees God: Confessions of a Teenage Blockhead" (Moses Mogilee/NYC), "Melancholy Play" (Holland Productions), "The Wonderful World of Dissocia" (Apollinaire Theatre Company), and "The Pain and the Itch" (Company One).

M. Bevin O'Gara is currently the Associate Producer at the Huntington Theatre Company. She had also directed: "2.5 Minute Ride" (Downstage @ New Rep); "The Pain and the Itch" (Company One); "Two Wives of India, Gary" (Boston Playwrights Theatre); "Othello," "The Crucible" (New Rep On Tour); "Bat Boy" (Metro Stage Company); "Melancholy Play" (Holland Productions); "Tattoo Girl," "Painting You," "Artifacts" (Williamstown Theatre Workshop); "Anti-Kiss" (3 Monkey's Theatrical Productions); "Play It Again Sam" (Footlight Club); and "La Cage Aux Follies" and the upcoming "Anything Goes" (Longwood Players).
For tickets and information, stop by the box office at 450 Massachusetts Avenue in Cambridge, call 866-811-4111 or visit centralsquaretheater.org.
Note: "Matt And Ben" contains strong language.