Emily Dendinger's "Hideous Progeny"
At Boston Playwrights' Theatre
July 9 - 23
Now in its 5th season, Holland Productions will present the regional premiere of Emily Dendinger's "Hideous Progeny," a witty and salacious story of Mary Shelley and her peers. Performances are scheduled July 9 – 23 at Boston Playwrights' Theatre, 949 Commonwealth Avenue in Boston.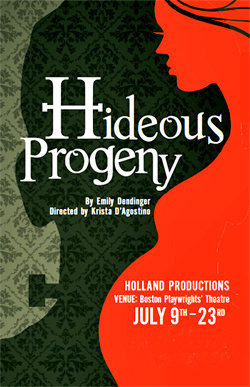 Directed by Krista D'Agostino, the cast includes Lydia Barnett-Mulligan, Maggie Erwin, Nate Gundy, Alex Simoes, Julia Specht and Victor Shopov.
It was a dreary night outside the Villa Diadoti on Lake Geneva in 1816, The Year Without a Summer. Inside, an 18-year-old Mary Wollstonecraft Godwin longs for home, domestic stability, and peace of mind. As the storm rages on, Mary is haunted by her history and tormented by those around her. Amidst the chaos on both sides of the villa's doors Lord Byron issues his infamous challenge to write a ghost story that is both frightening and original. Navigating through sex and science, family and phantasms, Mary births her own hideous progeny and secures her name in ink and immortality.
D'Agostino commented, "The 'why' for 'Frankenstein' is often viewed as a response to the upheaval of the early 1800s and as a warning against the rapid transformation of a soon-to-be industrialized world. What we often forget, and what Dendinger's play skillfully illuminates, is the inner chaos brewing within Mary Shelley; the void of being raised without a mother, devastation of losing a child, and the pain of being inextricably bound to an impetuous and radical lover. It's through this commingling of loss and life, depression and obsession, that Mary was able to truly create the horror of 'Frankenstein.'"
Emily Dendinger, playwright in residence for Holland Productions, has had plays produced around the country including her native Virginia. "Hideous Progeny" premiered last summer in Chicago (LiveWire Theatre) and will receive another reading this fall with the Carlsbad Players. Recently, she wrote the book for the musical "The Virginia," which was a semi-finalist at the Eugene O'Neill. Holland Production's inaugural show was Emily's "Swimming After Dark," which won the 2005 Kennedy Center American College Theater Festival Region I's 1X2 One Act Playwriting Competition and 2008 Women Playwrights' Initiative's Playwriting Competition.
For tickets and information, call 1-866-811-4111 or visit hollandproductions.org. (Thursdays are Pay What You Can performances ($5 minimum).