"West Side Story"
Opens June 14 At The Colonial
The national tour of the hit Broadway revival of "West Side Story" will play a four week engagement at Boston's Colonial Theatre from June 14 - July 9.
Tony Award-winning librettist Arthur Laurents' original direction from the revival will be recreated for the tour by Cape Cod native David Saint, the show's Associate Director on Broadway. The original Jerome Robbins choreography is reproduced by Tony Award-nominee Joey McKneely ("The Boy from Oz," "The Life").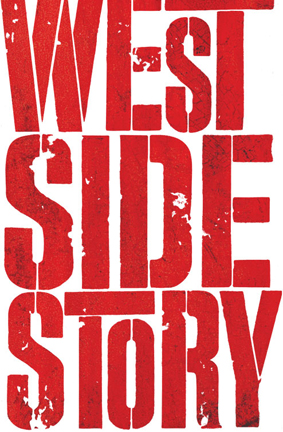 This new production began previews at Broadway's Palace Theatre on February 23, 2009, opening to critical acclaim on March 19 and recouping its $14 million investment after running only 30 weeks. The Broadway production played its final performance January 2, 2011.
"West Side Story" was written by three theatrical luminaries: two-time Tony Award winner Arthur Laurents (book) and multiple Tony and Grammy Award winners Leonard Bernstein (music) and Stephen Sondheim (lyrics) in his Broadway debut.
Originally directed and choreographed by Jerome Robbins, "West Side Story" opened at the Winter Garden Theatre on September 26, 1957, and garnered passionate reactions from critics and audiences alike. The piece has often been credited with changing the entire course of the American musical theater.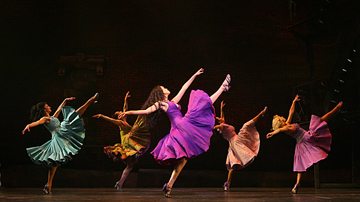 Applauding the creators' innovation in dance and musical style, TIME Magazine exclaimed "Robbins' energetic choreography and Bernstein's grand score accentuate the satiric, hard-edged lyrics of Sondheim and Laurents' capture of the angry voice of urban youth." New York Times critic Brooks Atkinson described the show as "profoundly moving; an incandescent piece of work where theatre people, engrossed in an original project, are all in top form."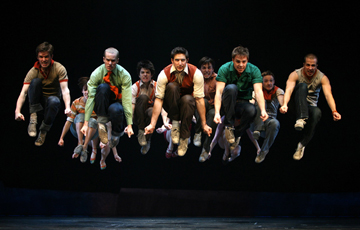 "West Side Story" had a long journey on its way to Broadway. Six years elapsed between Jerome Robbins' first idea of a modern musical adaptation of Romeo and Juliet and its actual Broadway debut in 1957. Originally, the action of the musical was to take place on New York's Lower East Side with tensions flaring between Jews and Catholics during the Passover and Easter holidays. The original setting left the authors uninspired and the project was put on hold. Years later, when Arthur Laurents proposed changing the basis of conflict from religion to race, the show gained creative momentum and "West Side Story" was born.
The original production starred Larry Kert as Tony, Carol Lawrence as Maria, Chita Rivera as Anita, and won six Tony Award nominations including Best Musical of 1957. Jerome Robbins won the Award for his groundbreaking choreography and Oliver Smith took home the prize for Best Scenic Design. Also nominated were Carol Lawrence for Best Supporting Actress, Max Goberman for Best Musical Director and Irene Sharaff for Best Costume Design. "West Side Story" ran for 732 performances before launching national and international tours.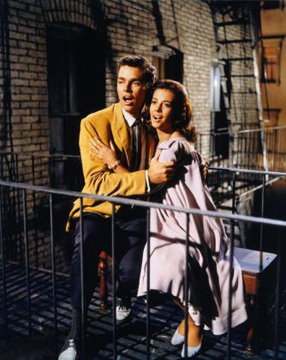 An innovative motion picture version, directed by Jerome Robbins and Robert Wise, was released in 1961 and starred Natalie Wood and Richard Beymer (left) as the star-crossed lovers with Rita Moreno as Anita. The film received wide praise from critics, winning ten Academy Awards out of its eleven nominated categories (including Best Picture). It also picked up a special award for Robbins. The film's soundtrack grossed more than any other album before it.
The new Broadway "West Side Story" cast album won the 2010 Grammy Award for Best Musical Show Album. The Bernstein and Sondheim score is considered to be one of Broadway's finest and features such classics of the American musical theatre as "Something's Coming," "Maria," "Tonight," "America," "I Feel Pretty" and "Somewhere."
For tickets and information, stop by the box office at The Colonial, 106 Boylston Street in Boston, call 1-800-982-2787 or visit BroadwayAcrossAmerica.com.
NOTE: Broadway Across America – Boston will be hosting three Access performances during the engagement:
Open Captioned performance • Thursday, June 23 at 7:30 p.m.
American Sign Language (ASL) performance • Sunday, June 26 at 7:30 p.m.
Audio Described performance • Thursday, June 30 at 7:30 p.m.
Tickets for these performances may be purchased through Voice--617-880-2419, TTY-617-426-3444, in person at the box office or via email at ADABoston@BroadwayAcrossAmerica.com
Open Captioning is an alternate form of accessibility for the deaf and hard of hearing population in the United States. The c2net.org website describes Open Captioning as "text displayed simultaneous to live speech, dialogue or performance." This technology is now utilized by theaters nationwide. It provides hearing impaired patrons with the complete script and song text for live performances on small screens directly adjacent to audience seating. For more comprehensive information on Open Captioning visit www.c2net.org.
During American Sign Language (ASL) Interpreted performances, qualified Interpreters convey the story, dialogue and other elements to Deaf and Hard of Hearing Patrons. Audience members are able to see both the interpreter and the stage action simultaneously.
Audio Description is a live narration of the visual aspects of the performance broadcast to visually impaired patrons who wear a small receiver (headset). This narration includes pre-show descriptions of the theater and of the costume and scenic elements as well as narration of blocking and choreography between the show's dialogue and musical numbers.