---

Nora Theatre Presents
World Premiere Of
"Silver Spoon"
The Nora Theatre Company will presents the World Premiere of Cambridge playwright Amy Merrill and renowned folksinger and activist Si Kahn's romantic musical comedy, "Silver Spoon." Directed by Daniel Gidron, the company's Associate Director, the production plays at Central Square Theatre, 450 Massachusetts Avenue in Cambridge, from May 19 - June 19.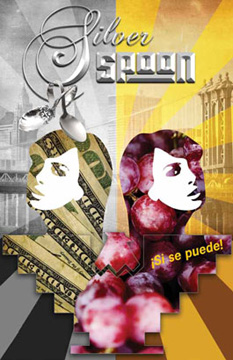 The production of "Silver Spoon" marks a milestone for The Nora Theatre Company, which undertook its longest and most involved development process to bring the musical to its stage. Si Kahn and Amy Merrill have known each other for over forty years, meeting for lunch at the S&S Delicatessen when Mr. Kahn, whose home is in North Carolina, was visiting Cambridge. Eventually, conversation evolved into collaboration, and the six-year partnership that "Silver Spoon."

Set in the late 1960s against the background of the grape boycott led by Cesar Chavez and the United Farm Workers of America, "Silver Spoon" is about family, identity, and commitment.
Polly Bullock, a young woman in her mid twenties, is living a double life. By day she is the heir to her family's Wall Street brokerage firm and the Sunshine Foods grocery chain. By night she is the editor of a radical underground newspaper and has fallen in love with Dan Horowitz, a passionate, impulsive organizer for the United Farm Workers, which is currently boycotting Sunshine Foods. The older generations are ready to pass down their hard-earned institutions, but what happens when they discover the next generation is charting a different course?

The Nora Theatre Company presented the first reading of "Silver Spoon" in June of 2007, featuring Rena Baskin and Peter Edmund Haydu, two of the cast members in this new production. Kara Manson and Edward T. Joy round out the cast as the young love interests.
For the past two years, The Nora's Artistic Director, Mary C. Huntington and director Daniel Gidron have worked collaboratively with Ms. Merrill and Mr. Kahn on the development of the work. Broadway musical arranger and orchestrator Larry Hochman ("The Book of Mormon" and "Monty Python's Spamalot") joined the project after attending a reading in New York City.

Born in St. Louis, Amy Merrill has lived most of her life in the Boston area. She is a producer (blackbirdproductions.net) and author of several plays, many of which have been featured at the Boston Theatre Marathon and Culture Park's Short Play Festival in New Bedford. In 2005, Ms. Merrill's "Driving on the Left Side," a play with original, live reggae music, premiered at the TBG Theatre in New York City. She is also Co-Curator of the Play Pen Playwrights residency at Central Square Theater, now in its second season, and is an Associate Professor at Berklee College of Music.

Composer Si Kahn has worked for more than 45 years as a civil rights, labor and community organizer and musician. For the past 30 years, he has worked as a composer, lyricist and book writer for musical theater, with past and planned productions and readings at several theatres including Goodspeed Opera House; the Berkeley and Milwaukee Reps; and the York and Amas Musical Theatre Companies in Manhattan. Musical theater work includes "Some Sweet Day" and "Immigrant." Mr. Kahn has recently been commissioned by the Bread and Roses Heritage Committee in Lawrence, MA, to write a musical in honor of the 100th anniversary of that historic "strike of the immigrants." As a performing musician he has garnered tremendous recognition. Most recently, his "Courage" was named the #1 CD for 2010 by the Folk Alliance. His musical body of work includes 15 albums of original songs, plus a collection of traditional labor, civil rights and women's songs recorded with Pete Seeger and Jane Sapp. Recipient of many awards for his activism, last year, Mr. Kahn was honored by the national organization 21st Century Democrats with their Solidarity Forever award.

Daniel Gidron directed "The Caretaker" and "The Lady With All The Answers" for the company at Central Square Theater last season. This season, he directed "Hysteria." He has directed 20 productions for The Nora, including "The Unexpected Man," "How I Got That Story," and "The Cherry Orchard," among others. He has also directed for many other companies including The Lyric Stage Company of Boston, Shakespeare & Company, Tremont Theatre, Opera Boston, and La Mama ETC.

Conversations with special guests, local academics, and the actors will follow select performances, as listed below:
Saturday, May 21 - Pre-Show
SubText: Your Stories, Real or Imagined
Storytelling inspired by the themes of "Silver Spoon"

Sunday, May 22 - Post-show
Sunday Soiree: Congratulate the cast at a complimentary reception.

Thursday, May 26 - Post-show
Artists & Audiences: Join the cast in a post-performance talkback

Thursday, June 2 - Post-show
Central Salon: Join the conversation with Central Square Theater leadership, with complimentary wine and cheese.

Thursday, June 9 - Post-show
Scholar Social: Renowned academics illuminate ideas raised by the production in dialogue with the audience.
For ticket and information, call 866-811-4111 or visit www.centralsquaretheater.org.