2011 Elliot Norton Award Winners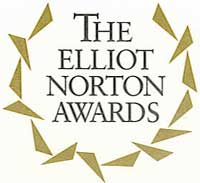 Recognizing excellence in Greater Boston theater, the 29th Annual Elliot Norton Awards were held on Monday, May 23, at the Paramount Mainstage in Boston's Theatre District.
Presented by the Boston Theater Critics Association, the awards are named in honor of the distinguished Boston theater critic Elliot Norton, who for many years served on the selection committee and who remained an engaged supporter of theater, both locally and nationally. For 48 years Mr. Norton was a drama critic for several Boston newspapers; concurrently, from 1958 until his retirement in 1982, he was moderator of "Elliot Norton Reviews" on WGBH-TV.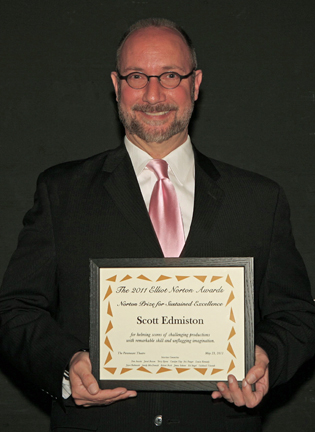 Scott Edmiston (at left), who's directed more than 50 productions in New England, was this year's recipient of the Elliot Norton Prize for Sustained Excellence. In addition, a special citation was presented to Wheelock Family Theatre, celebrating its 30th anniversary this season.
Following the ceremony, nominees, winners and fans gathered in the Paramount Blackbox for a reception.
This year's winners are noted below in blue.

OUTSTANDING VISITING PRODUCTION
"August: Osage County" (Broadway Across America)
"The Merchant of Venice" (ArtsEmerson/Theatre for a New Audience)
"Fragments" (ArtsEmerson/Théâtre des Bouffes du Nord)

OUTSTANDING VISITING MUSICAL PRODUCTION
"Hair" (Broadway Across America)
"Mary Poppins" (Broadway Across America)
"Fraulein Maria" (ArtsEmerson/Doug Elkins and Friends)

OUTSTANDING LOCAL MUSICAL PRODUCTION
"The Blue Flower" (American Repertory Theater)
"Prometheus Bound" (American Repertory Theater)
"The Great American Trailer Park Musical" (SpeakEasy Stage Company)

OUTSTANDING MUSICAL PERFORMANCE
Teal Wicks – "The Blue Flower" (American Repertory Theater)
Uzo Aduba – "Prometheus Bound" (American Repertory Theater)
Thomas Derrah – "Cabaret" (American Repertory Theater)

OUTSTANDING PRODUCTION (LARGE THEATER)
"Circle Mirror Transformation" (Huntington Theatre Company)
"Ruined" (Huntington Theatre Company)
"R. Buckminster Fuller: The History (and Mystery) of the Universe" (American Repertory Theater)

OUTSTANDING PRODUCTION (MIDSIZE THEATER)
"DollHouse" (New Repertory Theatre)
"In the Next Room (or The Vibrator Play)" (SpeakEasy Stage Company)
"The Life and Adventures of Nicholas Nickleby, Parts I & II" (Lyric Stage Company of Boston)

OUTSTANDING PRODUCTION (SMALL THEATER)
"Trad" (Tír Na Theatre)
"The Aliens" (Company One)
"9 Circles" (Publick Theatre Boston)
OUTSTANDING PRODUCTION (FRINGE THEATER)
"Ted Hughes's Tales from Ovid" (Whistler in the Dark)
"Mrs. Grinchley's Christmas Carol" (The Gold Dust Orphans)
"My Wonderful Day" (Zeitgeist Stage Company)

OUTSTANDING ACTOR (LARGE THEATER)
F. Murray Abraham – "The Merchant of Venice" (ArtsEmerson/Theatre for a New Audience)
Noah Bean – "Bus Stop" (Huntington Theatre Company)
Thomas Derrah – "R. Buckminster Fuller: The History (and Mystery) of the Universe" (American Repertory Theater)

OUTSTANDING ACTRESS (LARGE THEATER)
Estelle Parsons – "August: Osage County" (Broadway Across America)
Kate MacCluggage – "The Merchant of Venice" (ArtsEmerson/Theatre for a New Audience)
Tonye Patano – "Ruined" (Huntington Theatre Company)

OUTSTANDING ACTOR (MIDSIZE THEATER)
Nigel Gore –"The Life and Adventures of Nicholas Nickleby, Parts I & II" (Lyric Stage Company of Boston)
Will Lyman – "The Life and Adventures of Nicholas Nickleby, Parts I & II" (Lyric Stage Company of Boston); "DollHouse" (New Repertory Theatre)
Johnny Lee Davenport – "Broke-ology " (Lyric Stage Company)

OUTSTANDING ACTRESS (MIDSIZE THEATER)
Marianna Bassham – "The Hotel Nepenthe" (Actors' Shakespeare Project); "In the Next Room (or The Vibrator Play)" (SpeakEasy Stage Company)
Molly Schreiber – "The Turn of the Screw" (Stoneham Theatre)
Anne Gottlieb – "Frankie and Johnny in the Claire de Lune "(New Repertory Theatre); "In the Next Room (or The Vibrator Play)" (SpeakEasy Stage Company)

OUTSTANDING ACTOR (SMALL/FRINGE THEATER)
Jimi Stanton – "9 Circles" (Publick Theatre Boston)
Billy Meleady – "Trad" (Tír Na Theatre)
Alex Pollock – "The Aliens" (Company One)
OUTSTANDING ACTRESS (SMALL/FRINGE THEATER)
Stacy Fischer – "Hysteria, or Fragments of an Analysis of an Obsessional Neurosis" (Nora Theatre Company)
Ramona Lisa Alexander – "A Moon for the Misbegotten" (Nora Theatre Company); "Ti-Jean & His Brothers" (Underground Railway Theater/Boston Playwrights' Theatre)
Christine Power – "Neighbors" (Company One)
OUTSTANDING ENSEMBLE
"Ruined" (Huntington Theatre Company)
"Bus Stop" (Huntington Theatre Company)
"The Hotel Nepenthe" (Actors' Shakespeare Project)
OUTSTANDING DIRECTOR (LARGE THEATER)
Diane Paulus – "Hair" (Broadway Across America); "Johnny Baseball" (American Repertory Theater); "Prometheus Bound" (American Repertory Theater)
Will Pomerantz – "The Blue Flower" (American Repertory Theater)
Darko Tresnjak – "The Merchant of Venice" (ArtsEmerson/Theatre for a New Audience)

OUTSTANDING DIRECTOR (MIDSIZE THEATER)
David R. Gammons – "The Hotel Nepenthe" (Actors' Shakespeare Project)
Spiro Veloudos and Courtney O'Connor [Associate Director] – "The Life and Adventures of Nicholas Nickleby, Parts I & II" (Lyric Stage Company of Boston)
Paul Daigneault – "The Great American Trailer Park Musical," "Body Awareness" (SpeakEasy Stage Company)

OUTSTANDING DIRECTOR (SMALL THEATER)
Carmel O'Reilly – "Trad" (Tír Na Theatre)
Shawn LaCount – "The Aliens" (Company One)
Meg Taintor – "Ted Hughes's Tales from Ovid" (Whistler in the Dark)

OUTSTANDING DESIGN (LARGE THEATER)
Marsha Ginsberg [set], Carol Bailey [costumes], Justin Townsend [lighting], Clive Goodwin [sound], Ruth Bauer [artwork]; Jim and Ruth Bauer [videography] – "The Blue Flower" (American Repertory Theater)
John Lee Beatty [set], Linda Cho [costumes], David Weiner [lighting], Jane Shaw [sound/composer], Matthew Myhrum [video artist], Charles LaPointe [hair and wig design] – "The Merchant of Venice" (ArtsEmerson/Theatre for a New Audience)
David Zinn [set], Matt Tierney and Ben Williams [sound] – "The Select (The Sun Also Rises)" (ArtsEmerson/Elevator Repair Service)

OUTSTANDING DESIGN (MEDIUM/SMALL/FRINGE THEATER)
Rafael Jaen [costumes] – "The Life and Adventures of Nicholas Nickleby, Parts I & II" (Lyric Stage Company of Boston)
Cristina Todesco [set], Bobby Frederick Tilley II [costumes], Aaron Mack [sound]– "The Aliens" (Company One)
Matthew T. Lazure [set] – "The Secret Garden" (Wheelock Family Theatre)
OUTSTANDING NEW SCRIPT
Jim Bauer and Ruth Bauer – "The Blue Flower" (American Repertory Theater)
John Kuntz – "The Hotel Nepenthe" (Actors' Shakespeare Project)
Ryan Landry – "Mrs. Grinchley's Christmas Carol" (The Gold Dust Orphans)
OUTSTANDING CHOREOGRAPHY
Matthew Bourne – "Mary Poppins" (Broadway Across America)
Basil Twist – "Petrushka" (ArtsEmerson/Basil Twist)
Doug Elkins – "Fraulein Maria" (ArtsEmerson/Doug Elkins and Friends)
NORTON PRIZE FOR SUSTAINED EXCELLENCE
Scott Edmiston

SPECIAL CITATION
Wheelock Family Theatre