---

"Natasha Plays" Complete Season
At Charlestown Working Theatre
The Charlestown Working Theater will wrap up its season from June 8 - 11 with "The Natasha Plays," a triptych of monologues by one of Russia's freshest new theatrical voices, 23-year-old Yaroslava Pulinovich. Presented with Towson University's School of Theatre Arts, the production is directed by Stephen Nunns from a translation by John Freedman.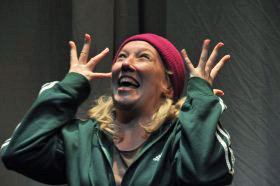 "Natasha's Dream" tells the story of a 16-year-old orphan, Natasha Banina (Julia M. Smith), who finds herself experiencing the first rustlings of love -- with dire consequences.
The second monologue, "I Won," chronicles the upward mobility of another teenager, Natasha Vernikova (Sarah Lloyd), a middle-class overachiever who lets nothing get in the way of her personal and professional success.
Finally, there's "Epilogue," a short piece in which yet another Natasha (Shannon McPhee) offers up a love letter to her favorite pop star, Dima Bilan.
"The Natasha Plays" were first presented in the United States as part of the Towson University Department of Theatre Arts New Russian Drama season, developed in collaboration with the Center for International Theatre Development, Philip Arnoult, Director.
Playwright Yaroslava Pulinovich was born in Omsk, Russia, and lived there until she was eight years old. By the time she was 18, she had won her first award as a playwright. Between 2007 and 2009, while studying playwriting under Nikolai Kolyada, Pulinovich published six plays in the journal Ural. Now 23, she has created something of a sensation on the Russian theatre scene with readings at events such as the New Drama Festival and productions at theatres including Moscow's Playwright and Director Center and the Kiselev Young Spectator Theatre in Saratov. In the fall of 2008, she won the debut literary prize in playwriting. By 2009, she had received a commission from the Royal Shakespeare Company. The play she created for that theatre, "Beyond the Track," was produced as part of their Russian Season in September 2009. Her other plays include "I Won't Come Back" and "Washers" (written with Pavel Kazantsev), which won the Grand Prize at the Kolyada Play Festival in Yekaterinburg. Pulinovich and Kazantsev also collaborated on the screenplay for a comedy about youth in Russia, "How to Catch a Shoplifter."
Director Stephen Nunns is an assistant professor and director of the MFA Program in Theatre Arts at Towson University. His writing has appeared in The New York Times, The Village Voice, Musical Quarterly, and The Journal of American Drama and Theatre among other publications. From 1996 to 2000, he was an associate editor at American Theatre magazine, where he regularly covered national politics and the arts. Before arriving at Towson University, Nunns lived in New York City for fifteen years, directing, writing (mostly in collaboration with his wife, journalist Karen Houppert), and composing music for theatre pieces at a variety of Off-Off Broadway venues, including HERE, The Ontological-Hysteric Theater, Dance Theater Workshop and the 78th Street Theatre Lab.
Translator John Freedman has written or edited and translated nine books about Russian drama and theater, including Provoking Theater with Kama Ginkas, and has been the theater critic of The Moscow Times since 1992. His three dozen play translations have been performed in the United States, Australia, Canada, England and South Africa, and published in numerous anthologies and journals. With Jennifer Johnson and Matthew Glassman, he was co-author of "The Firebird," a summer spectacle performed at Double Edge Theater in 2010. With a PhD from Harvard University, he lived in Boston from 1983 to 1988.
Charlestown Working Theater performs at 442 Bunker Hill Street in Charlestown. For tickets, call 866-811-4111 or visit www.charlestownworkingtheater.org.