"La Cage Aux Folles"
To Star George Hamilton
In December Run At The Shubert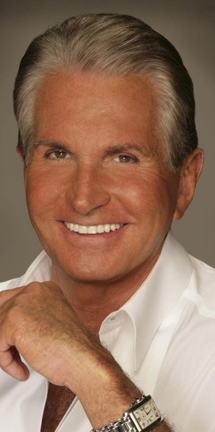 It's been announced that George Hamilton will star in the upcoming national tour of "La Cage Aux Folles," coming to the Citi Performing Arts Center Shubert Theatre from December 5 – 18.
Known for such anthems as "I Am What I Am" and "The Best Of Times Is Now," "La Cage Aux Folles" features music and lyrics by Jerry Herman and book by Harvey Fierstein, based on the 1973 play by Jean Poiret. One of the biggest hit of the 2010 Broadway season, "La Cage" is part of the Lexus 2011-2012 Broadway Across America – Boston Series.
Season Ticket packages which include "La Cage" are on sale now by visiting www.broadwayacrossamerica.com/boston. An on-sale date for individual tickets will be announced at a later time.
"La Cage Aux Folles" tells the story of Georges (George Hamilton) the owner of a glitzy nightclub in Saint-Tropez, and his partner Albin, who moonlights as the glamorous chanteuse Zaza. When Georges' son Jean-Michel brings his fiancee's conservative parents home to meet the flashy pair, the bonds of family are put to the test. "La Cage" is a tuneful tale of one family's struggle to stay together, stay fabulous and above all else, stay true to themselves.
As theater fans know, the original 1983 production of "La Cage Aux Folles" -- starring George Hearn and Gene Barry -- had its pre-Broadway try-out at Boston's Colonial Theater, playing to sold out houses and signaling its eventual rise to one of the American Musical Theater's most successful shows.
"La Cage" recently made Tony Awards history as the first show to ever win the Tony Award three times for best production. The classic musical comedy originally won six Tony Awards in 1984, including Best Musical. A Broadway revival in 2005 won two Tony Awards including the Best Revival of a Musical prize. The new, freshly reconceived "La Cage" won three 2010 Tony Awards including Best Revival of a Musical.
The production is also the winner of three Drama Desk Awards, including Outstanding Revival of a Musical, four Outer Critics Circle Awards, including Outstanding Revival of a Musical and Outstanding Director of a Musical and the Drama League Award for Distinguished Revival of a Musical.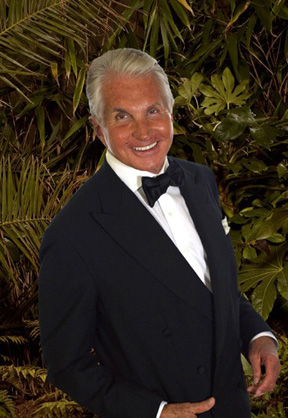 With handsome good looks and compelling personality, George Hamilton took a bold chance and moved to Los Angeles in the late 1950s. Metro Goldwyn Mayer wasted no time putting him in films. His first role came via "Crime & Punishment," an offbeat, updated adaptation of the Fyodor Dostoevsky novel. As a result, he received a Golden Globe Award as "Most Promising Newcomer" as well as being nominated for "Best Foreign Actor" by the British Film Academy. This in turn led to an enviable series of film showcases such as "Home from the Hill," "All the Fine Young Cannibals," "Light in the Piazza" and "Two Weeks in Another Town." He drew international attention with "Where the Boys Are," a coming-of-age romantic comedy in which he played a smooth and cool Ivy League type. Hamilton also made two memorable bio-pics: "Your Cheatin' Heart" in 1964, in which he portrayed the country-western music legend Hank Williams, and the 1971 feature, "Evel Knievel," the life story of the motorcycle daredevil.
In the 1960s, Hamilton started making headlines more as a handsome escort to the rich, the powerful and the beautiful than as an acclaimed actor -- none more so than his 1966 squiring of President Lyndon B. Johnson's daughter Lynda Bird Johnson. From the 1970s on, George tended to be tux-prone on standard film and TV comedy and drama, whether as a martini-swirling opportunist, villain or lover.
A comeback for him came in the form of the Dracula spoof "Love at First Bite," which he executive-produced. Nominated for a Golden Globe as the campy neck-biter displaced and having to fend off the harsh realities of New York living, he continued on the parody road successfully with "Zorro, the Gay Blade" in the very best Mel Brooks tradition.
His renewed popularity led to a one-year stint on "Dynasty" during the show's 1985-1986 season and a string of fun, self-mocking commercials, particularly his Ritz Cracker appearance that spoofed his overly tanned appearance. He broke through the "reality show" ranks by hosting "The Family" and participating in the second season of ABC's "Dancing with the Stars," where his charm and impeccable tailoring scored higher than his limberness. He was honored with a star on the Hollywood Walk of Fame in 2009, on his 70th birthday.