Boston Playwrights' Theatre Presents
"Walking the Volcano"
Boston Playwrights' Theatre will present "Walking the Volcano," by the late Jon Lipsky, from April 15 - May 1. Lipsky was the acclaimed author of "Dreaming with an AIDS Patient" and "Living in Exile." Mr. Lipsky died March 19 at his home on Martha's Vineyard.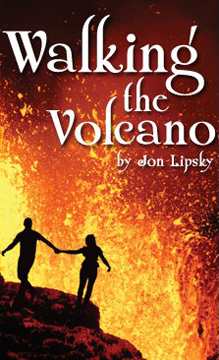 From a meeting in an airplane bathroom over the Pacific to a tryst in a seedy room in Saigon during the Tet Offensive, Lipsky's characters are complex, compelling, and in a search of the truth. If you lived through (or even read about) the turbulent '60s, you'll understand a walk along the volcano.
Directed by Elaine Vaan Hogue, the production features Gabriel Kuttner, Paula Langton, Jess Moss and Brian Vaughan.
Jon Lipsky had his work produced at the Actors Theater of Louisville's Humana Festival of New Plays, the American Repertory Theater and a host of other regional theaters. He had been playwright-in-residence at the Merrimack Repertory Theatre and Associate Artistic Director at the Vineyard Playhouse on Martha's Vineyard. His award-winning collaboration with jazz musician Stan Strickland, "Coming Up For Air," was presented in 2008 at the Underground Railway Theater in Cambridge and at the Edinburgh Fringe Festival. In the fall of 2008, he published a book about a theater of dreams called Dreaming Together. Jon was also Professor of Acting and Playwriting at Boston University's School of Theater.
Elaine Vaan Hogue most recently played the role of Miss Helen in the Boston Center for American Performance production of Athol Fugard's "The Road to Mecca." She lives on a 12-acre farm in central Massachusetts where she has founded the Theatre of Ecology and Healing Arts. She has directed many plays on both the west and east coasts with her favorites including "Radium Girls," "The Trestle At Pope Lick Creek," "Lizzie Stranton," "Crave," "Thin Air: Tales From A Revolution," "Angels in America," "Three Sisters," "The Cherry Orchard," "Fen," "Cloud Nine," "How I Learned To Drive," "Pains of Youth," and "Buried Child." She is also passionately involved in The Magdalena Project, an international network of women in contemporary theatre. Elaine is Program Head of Theatre Arts at Boston University where she teaches directing and acting.
Boston Playwrights' Theatre is located at 949 Commonwealth Avenue. For tickets and information, call 866-811-4111 or visit bostonplaywrights.org.