"Passing Strange"
At New Rep May 1 - 22
From May 1 - 22, New Repertory Theatre will conclude its 27th season with the New England premiere of the Tony Award-winning musical "Passing Strange." With book and lyrics by Stew, music by Stew and Heidi Rodewald in collaboration with Annie Dorsen, the production will be directed by Kate Warner with music direction by Todd C. Gordon and choreography by Kelli Edwards. New Rep is in residence at The Arsenal Center for the Arts, 321 Arsenal Street in Watertown.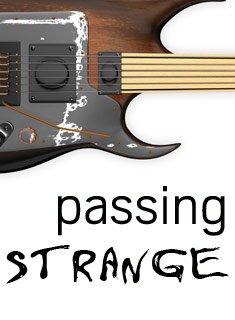 This modern musical, whose title was born from the illustrious Moor's lines in Shakespeare's "Othello," takes audiences on a pilgrimage led by a Narrator who shares his life through song. The soulful journey follows a young man from a comfortable, suburban neighborhood in Los Angeles to the coffeehouses of an Amsterdam paradise and the riotous art houses of West Berlin as he searches for his artistic and personal voice -- what he calls "the real."
The company includes Cheo Bourne, De'Lon Grant, Maurice E. Parent, Eve Kagan, Cheryl Singleton, Kami Rusell Smith and Cliff Odle.

Kate Warner, New Rep's Artistic Director, commented, "'Passing Strange' is the perfect musical to end our 27th season, which is centered on the theme of transformation. Through this passionate musical, we follow one young man's personal journey to find his true identity and his evolution as an artist and being."
In a related project, New Repertory Theatre recently launched a three month Tell Your Story program with Brighton High School students. Eve Kagan, who is featured in New Rep's production of "Passing Strange," is lead teacher on this project.
Every Monday afternoon, Ms. Kagan meets with a group of 15 to 20 students at the school and works with them to create a production based on their own experiences. The production is intended to allow the students to "tell us" their personal stories, like the character the Youth does in "Passing Strange." Additional members of the "Passing Strange" cast will also assist with the production.
The Tell Your Story program will conclude with three public performances of the student production in the Charles Mosesian Theatre at the Arsenal Center for the Arts on May 7, 8 and 9. Additionally, New Rep will provide Brighton High School students with fifty tickets to attend a performance of "Passing Strange" through support from Citizens Bank.
For tickets and information, stop by the box office, call 617-923-8487 or visit www.newrep.org. Free parking is available adjacent to the theater.