---

Edgar Allan Poe
"Completely Fictional -- Utterly True"
In World Premiere At Trinity Rep
The folks at Trinity Rep have announced they'll be presenting they're 58th world premiere production, this time penned by a playwright familiar to local audiences. "The Completely Fictional – Utterly True – Final Strange Tale of Edgar Allan Poe," by resident company member Stephen Thorne, promises to take audiences deep into the mysteries surrounding Poe's untimely death. Directed by Artistic Director Curt Columbus, the production runs May 6 - June 5 in the intimate Dowling Theater.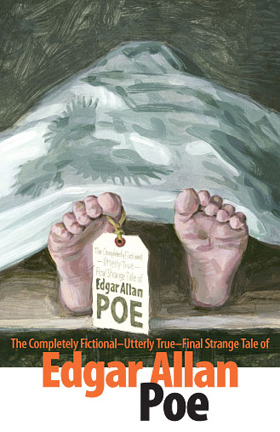 A foray into historical fact, literary fiction, and the dark places where they intersect, "Edgar Allan Poe" has been years in the making. Looking back on the play's genesis during a 2006 acting company workshop, playwright Stephen Thorne remembered how the play began to take shape: "I threw out Poe as an idea for new work to be developed, and immediately, I was hooked."
His research soon led him to the fascinating riddle surrounding Poe's last days. "His death is an actual unsolved mystery," Thorne commented. "He had gotten his life back on track, but then disappeared for a week and was found in Baltimore, completely disheveled and out of his mind. No one knows what happened to him -- what unfolded during those seven days. Even describing his death just now, it sounds like a story he would have written."

Resident company member Brian McEleney will take on the role of Edgar Allan Poe, whose tale begins at the moment of his reappearance after a seven day-long sojourn to who-knows-where. Unhinged, intoxicated and dressed in someone else's clothes, Poe has only a few days to live.
Before Poe goes off into the great beyond, however, Thorne brings audiences into his macabre, fantastical universe with all its ghoulish delights. Where did Poe go, who did he meet, and what did he say during those missing days? The landscape of Poe's final journey – which runs through the ghosts of his childhood, his career, and his afterlife – is studded with elements as chilling as his own stories.

The cast features Stephen Berenson, Angela Brazil, Mauro Hantman, Phyllis Kay, Fred Sullivan Jr. and Joe Wilson Jr. along with Brown/Trinity Rep MFA '12 actors Lauren Lubow and Charlie Thurston.

Curt Columbus, who has nurtured this ambitious project from the start, commented, "This is the kind of work that can only be developed at a theater like Trinity, with a resident acting company to support the scale of its creation. To be able to continue to commit to bold new work – and to close our 2010-2011 season with a show that has been generated from within our resident company – is a thrilling opportunity."
This marks Stephen Thorne's 11th season with Trinity Rep. He has also appeared at the Actors Theatre of Louisville, Long Wharf Theatre and the Riverside Shakespeare Festival. He has been a member of the Bread Loaf School of English Acting Ensemble since 1999.

The play's first performance on May 6 at 7:30 p.m. is Pay What You Can (PWYC). PWYC tickets go on sale at 6:30 p.m. with a limit of one ticket per person.
Talkbacks will be held after every performance of the show. Audiences are invited to share their response to the play's production and themes for approximately twenty minutes.

A panel discussion on the life and literature of Edgar Allan Poe, featuring playwright Stephen Thorne, Brown Professor of English Philip Gould, and Providence Athenaeum Director of Member Services, Programs and Development Christina Bevilacqua will take place on Saturday, May 21, at 1 p.m. in the Dowling Theater. The discussion is free and open to the public. Panelists will discuss Poe's work and delve into the events of his life which drove him to artistic inspiration and personal despair, paying particular attention to how his personal life is reflected in his stories. No reservations are required to attend.
For information and tickets, stop by the Trinity Rep box office at 201 Washington Street in Providence, call 401-351-4242 or visit www.trinityrep.com.