Reagle Music Theatre Presents
"Ballroom With A Twist"
"Dancing with the Stars" goes toe-to-toe with "So You Think You Can Dance" and "American Idol" when the Reagle Music Theatre hosts the song and dance extravaganza "Ballroom with a Twist" on Sunday, May 15. Performance time is 2 p.m.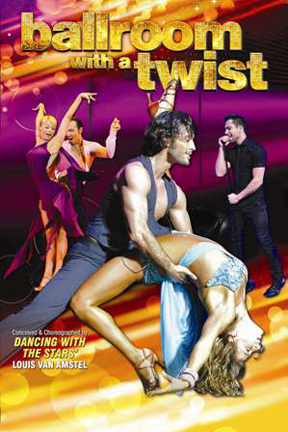 Conceived and choreographed by popular "Dancing with the Stars" pro and world champion Louis van Amstel, "Ballroom with a Twist" combines the elegance and discipline of classic ballroom dancing with the energy and athleticism of hip hop, jazz and Broadway.
Seasoned "Dancing with the Stars" professionals including Edyta Sliwinska and Alec Mazo are set to be joined by the remarkable "So You Think You Can Dance" alums Randi Lynn Evans, Jonathan Platero, and Gev Manoukian. "American Idol" finalists David Hernandez and Gina Glocksen will lend their powerhouse vocals in numbers like "Rescue Me" and "You Can't Stop the Beat." Beautiful costuming and vibrant background projections will add another layer to the evening.

Robert Eagle, Producing Artistic Director of the award-winning Waltham-based regional theater commented, "This very exciting show by Louis van Amstel is a great fit for the Reagle Music Theatre audience. Our patrons know and appreciate great dancing. They have come to expect Broadway-caliber choreography from our summer musical productions. 'Ballroom with a Twist' continues that tradition. It is remarkable to see van Amstel's stunning concept brought to life by the show's extremely talented singing and dancing troupe."

Reviews for "Ballroom with a Twist" have been stellar. BroadwayWorld.com wrote, "The show is so electrically charged that it is guaranteed to keep audience members jumping for joy. This is one HOT evening you do not want to miss!" LA Weekly called the show "marvelously high-caliber entertainment" with "gorgeous costumes" and "exceptional choreography," offering "something for everyone."

Reagle Music Theatre is offering special discounts and giveaways that promise to make "Ballroom with a Twist" even more exciting for local fans. Dance studios are being invited to submit their top ballroom dance couples for a chance to perform on stage with the "Twist" cast.
Couples who purchase tickets using a special promotional code (GOT2DANCE) will be entered into a contest to win a free dance lesson from two of the show's hottest stars. One lucky Mom will win the chance to "dance with a star" based on contest entries submitted to the Reagle Facebook Page for Mother's Day.

"Ballroom with a Twist" will be presented by Reagle in the Robinson Theatre, 617 Lexington Street in Waltham. For tickets and information, call 781-891-5600 or visit www.reaglemusictheatre.org.