"42nd Street"
At Stoneham Theatre
Come And Meet Those Dancing Feet
May 5 - 29
Musical nostalgia reigns and dancing rules when Stoneham Theatre presents "42nd Street" from May 5 - 29. With music by Harry Warren, lyrics by Al Dubin, and a book by Michael Stewart & Mark Bramble, the production will be directed and choreographed by Ilyse Robbins.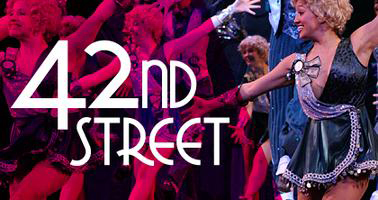 When young chorine Peggy Sawyer steps off a bus in New York City fresh from her home in Allentown, little does she know the fate that awaits her. She's come to audition for a role in "Pretty Lady" but is soon seen as a threat by the getting-on-in-years diva of a leading lady. But when that same leading lady breaks her ankle, the director begs Peggy to step in at the last minute and save the show.
Will she rise to the occasion? As they tell her from the wings, "You're going out there a chorus girl, but you've GOT to come back a star!"
Based on the Great Depression-era novel of the same name written by Bradford Ropes and later adapted as a movie musical in 1933, "42nd Street" is one of Broadway's most bubbly backstage musicals. It received a Tony Award for Best Musical in 1980, and then went on to win another Tony in 2001 for Best Revival. The score includes such popular songs as "We're In The Money, " "Shuffle Off To Buffalo," "Dames," and "Lullaby of Broadway" as well as the title number.
The cast features: Ephie Aardema, Kathy St. George, Russell Garrett, Andy McLeavy, and Kevin Martin along with Margaret Ann Brady, Neil Casey, Bob DeVivo, Arthur Waldsteinand Ceit Zweil. The ensemble is rounded out by Deirdre Burke, Sara Coombs, Laura Graczyk, Zach Gregus, Mark Linehan, DJ Plunkett, and Brandon Timmons.
Related Events:
Talkback
Sunday, May 8, following the 2 p.m. matinee. Join the artists who bring "42nd Street" to life in a lively and educational discussion of the play, the process, and all things theatre. Refreshments will be served.
Those Dancin' Feet
Saturday, May 14, 2:00 - 3:30 p.m. Tap dance workshops will be held for two different levels of experience: beginner and beyond-beginner. Each of the workshops will be led by "42nd Street" cast members and / or the choreographer. $25 per person (includes tickets to the 4 p.m. matinee). To register contact Laura Shofner at (781) 587-7914 or laura@stonehamtheatre.org.
Special Matinees
"42nd Street" will have three additional senior matinees held set for 2 p.m. on the following Wednesdays: May 11, May 18 and May 25. All tickets are $30 per person. Further information can be obtained by contacting the box office.
For tickets and information, stop by the box office, call 781-279-2200 or visit www.stonehamtheatre.org.