"The Who's Tommy"
At Boston Conservatory
April 8 - 10
The Boston Conservatory Theater Ensemble will present "The Who's Tommy," April 8 - 10, at the newly renovated Boston Conservatory Theater, located at 31 Hemenway Street in Boston's Fenway neighborhood. The production is directed by Boston Conservatory Alumnus Austin Regan with music directed and conducted by F. Wade Russo. Choreography is by Lillian Carter.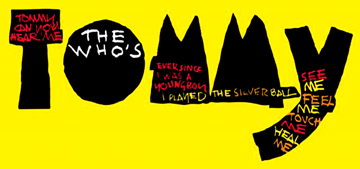 After witnessing the accidental murder of his mother's lover by his father, Tommy is traumatized into catatonia. As he grows up, he suffers abuse at the hands of his sadistic relatives and neighbors. As an adolescent, he's discovered to have an uncanny knack for playing pinball, and when his mother finally breaks through his catatonia, he becomes an international pinball superstar.
Based on The Who's rock opera, "Tommy," the production's book is by Pete Townshend and Des McAnuff with music by Pete Townshend, lyrics by Pete Townshend and additional music and lyrics by John Entwistle and Keith Moon.
Austin Regan is a New York City-based director. His recent productions include: "It Started With A Dream" starring Lillias White, Debbie Gravitte, and Kate Baldwin; "Hey You Know What..." at the Julia Miles Theater and the Zipper Factory; "Bromance In Concert" at 92Y Tribeca, and readings and concerts for New York Theater Barn and the BMI Workshop. Regan was featured in The New York Times for his work as an assistant director, which includes the Broadway productions of "American Idiot" and "Everyday Rapture." Regan earned his BFA in musical theater from The Boston Conservatory in 2007.
For tickets, call 617-912-9222 or visit bostonconservatory.