A Review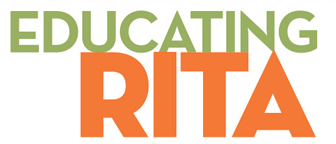 In The Pursuit Of Knowledge
By R. J. Donovan
Think "Pygmalion" at an English University.
Most people are probably familiar with "Educating Rita" via the 1983 film starring Michael Caine and Julie Walters. Written by Willy Russell, the story looks at a working class Liverpool hairdresser, Rita, who signs up for an Open University (private tutor) program in English literature. She's assigned to a curmudgeon of a professor, Dr. Frank Bryant, who asks, with disdain, what she's doing in his office. "I want to know," she bubbles. "Know what," he queries. "Everything," she says with the glow of someone about to start a long awaited journey.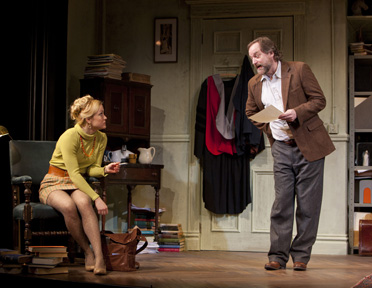 She's a fountain of comments and opinions. Endlessly enthusiastic, she says, perhaps, more than she should. Which is in stark contrast to the sullen attitude of her unwilling mentor who readily admits he's only taking her on for financial gain.
In the world of higher education, Rita's a commoner and Frank's among the elite. However, their roles begin to slide toward one another as she expands her mind and her vision.
Unlike the students having heated discussions sitting outside on the lawn, Rita is 26. And she's got a husband at home who's not entirely happy about her trying to improve her mind. Plus, he wants to start a family while she doesn't.
Directed at the Huntington by Maria Aitken, the two-character play is an evening of mellow chuckles versus hearty belly laughs. The first act is very long and takes its time connecting. However, the story redeems itself in the second act as Rita makes her transpiration. Jane PFitsch is particularly effective here as Rita, showing a blossoming and growth, not only in her ideas but in her speech and physical stance. The revelation is subtle and PFitsch does an excellent job emerging from her cocoon.
She's also greatly aided by costume designer Nancy Brennan who gives us visuals that carefully underscore the changes in Rita's attitude and understanding without overwhelming the moment.
As Frank, Andrew Long is all bluster and depressing dissatisfaction, cooped up in a cage of a office with windows that don't open. He's a frustrated poet who's displeasure encompasses everything from his wife to his students. His most satisfying relationship is with liquor. Further, the very things that inspire and improve Rita are the things he resents.
Unlike Eliza Doolite and Professor Higgins, the couple parts at story's end, with him moving on to a mandated life in Australia, and her having improved her mind as well as her lot in life.
And in a very thoughtful touch, she's helped improve him, too, if only a hair, as the stagelights dim.
"Educating Rita" is at The Huntington Theatre through March 13. For information, call 617-266-0800.
Production photo: T. Charles Erickson
-- OnStage Boston