A Review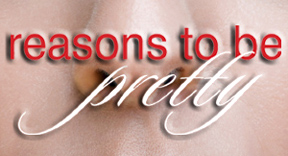 Boys Will Be Boys
By R. J. Donovan
Neil LaBute's plays are often brutal. His characters can be nasty. And they say and do ugly, hurtful things to one another. Such was the case in "The Shape of Things" and "Fat Pig," both of which were mounted by SpeakEasy Stage Company as LaBute examined our obsession with physical beauty. The trio of plays is completed with "Reasons To Be Pretty," which SpeakEasy is presenting in its New England premiere.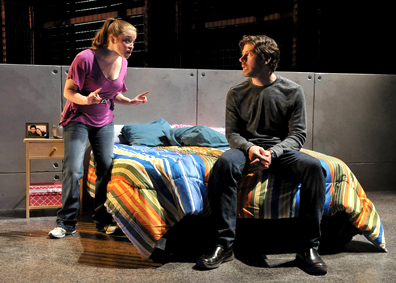 The jumping off point for the story finds Steph confronting her longtime boyfriend, Greg, over an offhand comment he made about her physical appearance.
When Greg and his buddy Kent were discussing a new female employee at their blue collar warehouse, they both agreed the new staff addition was hot. The problem is that Greg also commented that, in the looks department, Steph, by comparison, was just "regular." He added, quite sincerely, that he also loved her through and through.
The conversation was overheard by Kent's wife, Carly, who, in turn, conveyed it to Steph while claiming to be her friend. Some friend.
Greg is the only one of the four with a smattering of smarts. But despite his competence, he can't get his head around what the problem is, except that Steph is incensed. In fact, he says her blistering, curse-laden assault upon him is like "being at an Eddie Murphy concert." He apologizes, even though he doesn't see how such an innocuous comment could have caused such an uproar. And he loves her.
But Steph just can't -- or won't -- let it go. To the extent that it appears she not only wants the slight to be accurate, but needs it to carry far more hurt than it actually does. Is she using it to validate her own lack of self-esteem? Her reaction doesn't match his intent, and ultimately it's her reaction to the incident that's truly ugly.
All of this leads to their break up. Later, after they've moved on, the two bump into each other, uncomfortably, at a restaurant where they're both meeting other people. Despite time and supposed reflection, Steph hasn't let the comment go. And now Greg, who has genuinely wished her well, is angry that she's still using him as her whipping boy.
Kent, meanwhile, is fooling around with the hot new female employee, despite his lovely wife being pregnant. In his eyes, he's the more "regular" of the two guys. In Kent-World, Greg was totally out of line for his innocent comment, but he's totally cool for screwing around behind his wife's back.
The problem is that the story doesn't offer a lot of depth or edge. At least the way LaBute lays it out. And based on both "Shape of Things" and "Fat Pig," he's up to the task -- big time.
That said, the cast at SpeakEasy, under the direction of Paul Melone, gives it their all. As Steph, Angie Jepson creates a tirade at the top of the show that's real and difficult to watch. As the easy-going, book-loving Greg, Andy MacDonald has the amiable look of Zach Braff as he ambles through his vanilla life.
Burt Grinstead, as Kent, is the ultimate, bragging bone-head. Lead by his genitalia, the swaggering bully ultimately gets hurt where it counts. And Danielle Muehlen is Carly; LaBute gives her the least support. Initially she's vile to Greg when he confronts her about the commotion she's caused with Steph. But soon she's kidding with him and confiding in him, without a whole lot of explanation for the attitude shift.
Eric Levenson's unadorned set appropriately creates the atmosphere for all of this with cinder blocks and steel grates representing the drab, dead end world in which the four characters lurk.
The theater program indicates that when "Reasons" was Off-Broadway it included four monologues for the characters. LaBute later re-wrote things when the play transferred to Broadway. Perhaps something was blurred or diluted along the way, because LaBute is known for much more guttural tension than "Reasons To Be Pretty" offers.
"Reasons To Be Pretty" from SpeakEasy Stage, is at the Calderwood Pavilion at the Boston Center For The Arts, 527 Tremont Street, through April 2. 617-933-8600.
-- Production Photo: Craig Bailey/Perspective Photo
-- OnStage Boston