Kelsey Kurz and Joanna Gleason
In World Premiere
Of Huntington's "Sons of the Prophet "
The Huntington Theatre Company will present the world premiere of "Sons of the Prophet" by Stephen Karam at the Calderwood Pavilion at the Boston Center for the Arts from April 1 - May 1.
The irreverent and darkly comic story will feature Kelsey Kurz ("The Merchant of Venice" with Al Pacino), Dan McCabe ("Donnie Darko," "Saving Throw Versus Love") and Tony, Drama Desk, and Outer Critics Circle Awards winner Joanna Gleason ("Dirty Rotten Scoundrels," "Joe Egg," "Into the Woods").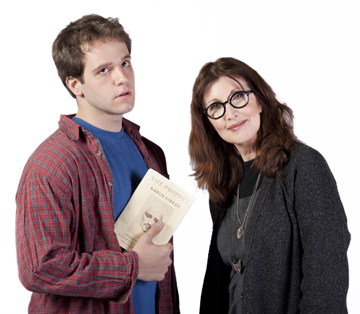 Directed by Huntington Artistic Director Peter DuBois, the production will play Off Broadway at the Roundabout Theatre Company in the fall. The Huntington production is produced in association with the Roundabout, which commissioned the play from Karam after premiering his smash hit "Speech & Debate" in 2007.
In "Sons of the Prophet," Lebanese-American brothers Joseph and Charles Douaihy are young, gay, and having a hell of a year: A prank-gone-wrong in their small town of Nazareth, PA, leads to the death of their father. Meanwhile, their uncle is losing it. Joseph is battling a mysterious ailment. His eccentric boss is pressuring him to write a memoir about his Maronite Catholic family's tenuous connection to Kahlil Gibran, author of The Prophet. And an ambitious and sexy reporter descends on the family in search of a story. All of this puts the brothers' once unbreakable sense of humor to the test.

DuBois commented, "The depth of feeling in Stephen's writing is ravishing. He has this incredible gift of 'effing' the ineffable. His play is fresh, bracing, and alive. In it, he takes the mess of our lives and turns it into phenomenal comedy. I'm so happy that we're doing the premiere in Boston, whose audience will be incredibly receptive to this play, I think, as they already have been to Stephen's writing." (The Lyric Stage Company's 2009 production of "Speech & Debate" was acclaimed by audience and critics and received the year's Elliot Norton Award for Best Production.)

Karam's "Speech & Debate" was produced Off Broadway by Roundabout Theatre Company as the inaugural production of Roundabout Underground. Since its extended run in New York, "Speech" has received more than 60 productions across the United States and Canada. Karam is the co-author of "columbinus," which ran Off Broadway at New York Theatre Workshop following a co-production by Round House and Perseverance Theatres. His play "Girl on Girl" debuted as part of the inaugural season of Brown/Trinity Playwrights Repertory Theatre. He is currently completing the screenplay for the film version of "Speech & Debate" for Overture Films and the libretto for an original chamber opera with composer Nico Muhly.
Related Events:
Post-Show Audience Conversations
Led by members of the Huntington staff, following most Tuesday - Friday, Saturday matinee, and Sunday matinee performances throughout the season.

"it's not funny 'til it's tragic" -- 35 Below Wrap Party
Friday, April 1, following the 8 p.m. performance
A post-show wrap party with free drinks, live music, and exclusive backstage access. $25 ticket includes admission to both performance and party.
Out & About Club
Thursday, April 7, following the 7:30 p.m. performance
Join GLBT audience members at a post-show party. Use code OUT to purchase discounted tickets at $40 to this performance online.
Student Matinee Performance
Friday, April 8, 10 a.m.
For groups of students in grades 9-12. Call 617 273-1558 for more information.
Actors Forum
Friday, April 8, following the 10 a.m. performance
Thursday, April 21, following the 7:30 p.m. performance
Wednesday, April 27, following the 2 p.m. performance
Participating cast members answer questions from the audience.

Humanities Forum
Sunday, April 10, following the 2 p.m. performance
A post-performance talk exploring the context and significance of "Sons of the Prophet ."
For tickets and information, stop by the box office, call 617 266-0800 or visit huntingtontheatre.org.