ArtsEmerson Presents
Oscar Winner F. Murray Abraham
In "The Merchant of Venice"
The season of international theater at ArtsEmerson: The World on Stage continues with the Boston premiere of Theatre for a New Audience's production of William Shakespeare's "The Merchant of Venice," starring Oscar-winning F. Murray Abraham. The production runs March 29 - April 10 at Cutler Majestic Theatre, located at 219 Tremont Street in Boston's Theatre District.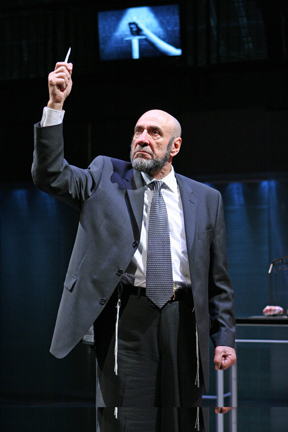 Darko Tresnjak directs F. Murray Abraham (left) as Shylock in this production fresh from hugely successful runs at the Royal Shakespeare Company in England and New York.
This modern-day adaptation replaces cell phones and wallets with messengers and moneybags in a story that follows a mysteriously melancholy rich man, a dashing young lover in desperate need of cash, a moneylender with good reason to seek revenge, and a witty young woman with a knack for disguise.

"The Merchant of Venice" has been arousing controversies for centuries with raucous and gentle comedy, tender poetry, and its struggle with mercy and justice. The wealthy Merchant Antonio dotes on his friend Bassanio, a spendthrift who has depleted his inheritance. When Bassanio meets the brilliant, rich Portia, he asks Antonio to advance him money so he can compete for her hand in marriage. Antonio's wealth is tied up in ships at sea and, despite his Anti-Semitism, he asks to borrow from Shylock, a Jewish money-lender. Shylock agrees, but insists that if Antonio defaults, he carve a pound of flesh from Antonio's body.

The New York Times commented, "In a performance as daring as it is powerful, Mr. Abraham delves into the shadowier recesses of Shylock's corrupted psyche, making him a little more sinister than sympathetic, sinning as much as sinned against."

Abraham ranks among the most noted and accomplished master actors of his generation. Having appeared in more than 200 plays and films, he counts among many awards and honors an Academy Award, Golden Globe, L.A. Film Critics and Obie. He is also a teacher and an author, most recently of a book on Shakespeare's "A Midsummer Night's Dream" published by Faber and Faber. He is also the voice of the New York Philharmonic.
Abraham's Oscar-winning performance as Salieri in Milos Forman's acclaimed film "Amadeus" ranks among the film's world's most memorable moments. His stage work of the same era is equally praised, including his performance in Mike Nichols' production of "Waiting for Godot" opposite Robin Williams and Steve Martin and his role as Roy Cohn in "Angels in America," Tony Kushner's Pulitzer Prize-winning play on Broadway.
Founded in 1979 by Jeffrey Horowitz, the mission of Theatre for a New Audience is to help develop and vitalize the performance and study of Shakespeare and classic drama. The Theatre nurtures relationships with some of the finest American and European directors, actors, designers and composers. Theatre for a New Audience also has an ongoing collaboration with the Royal Shakespeare Company and in 2001 became the first American theatre company to be invited to bring a production of Shakespeare to the RSC.
For information and tickets, stop by the box office, call 617-824-8000. or visit www.artsemerson.org.