"Steel Magnolias"
Blossoms At Trinity Rep
April 15 - May 15
Trinity Repertory Theatre in Providence continues its 2010-2011 season with "Steel Magnolias," the touching comedy by Robert Harling that explores friendship, life's celebrations (and cruelties), and the therapeutic properties of a neighborhood hair salon. Directed by interim head of the Brown/Trinity Rep MFA Directing Program Brian Mertes, the production runs April 15 - May 15 in the Chace Theater.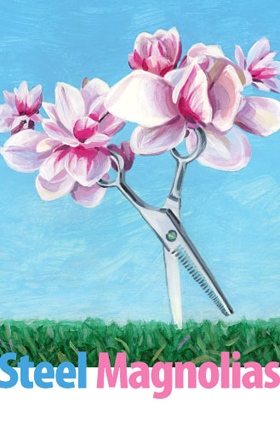 On her wedding day, the beautiful Shelby (Madeleine Lambert, Brown/Trinity Rep MFA '11) is a vision in pink, impatiently waiting on her up-do to be up-done so the rest of her life can unfold. Unfortunately, life has other plans for Shelby – and they aren't all so rosy.
Although audiences are perhaps most familiar with the 1989 film version of "Steel Magnolias," director Brian Mertes is particularly drawn to the way that the play explores the sanctuary of Truvy's Beauty Salon and the relationships of the fascinating women who meet there – without the presence of their male counterparts.
"This is one of those things that's so great about the play," he commented. "We're in a special place with these wonderful characters -- they have real stature, and presence -- they're people, in search of who they are."

Resident company member Rachael Warren plays Truvy, the savvy and stylish mother hen who runs the beauty salon out of her garage. Time and the friendly landscape of the small town south have drawn a diverse collection of women together, including M'lynn (Janice Duclos), Shelby's watchful mother and a fixture of the town's social register, the always agreeable Clairee (Barbara Meek) and the brusque, unhinged Ouiser (Annie Scurria).
On Shelby's wedding day, the town's shy newcomer Annelle (Alexandra Lawrence, Brown/Trinity Rep MFA '12) comes into the shop, finding friendship just when she needs it most. As the seasons change and the promise of Shelby's future is overshadowed by her ongoing struggle with diabetes, these friends band together with an unflappable sense of humor and resilience.

Mertes explained that the backdrop of the 1980s undoubtedly had an influence on Harling's treatment of the subject. "Harling had lost a sister to diabetes, and that's the specific inspiration for Shelby, but he was also addressing the AIDS crisis. This play expresses that kind of a story without hitting it right on the head, but still delivers that catharsis. It's about loss, possibly preventable loss – and how you move forward from that."
Robert Harling graduated from Tulane University School of Law but opted to become an actor in New York. After years of productive work in voiceovers and commercials, he wrote "Steel Magnolias "(1987) in just ten days, inspired by events in his personal life. Bridging a career from stage to screen, Harling adapted his play for the 1989 film. He then went on to write the screenplays for "Soapdish" (1991), "The First Wives Club" (1996), "Evening Star" (1996) which he also directed, and "Laws of Attraction" (2004).
Talkbacks will be held after every performance. Audiences are invited to share their response to the play's production and themes for approximately twenty minutes.

For tickets and information, stop by the box office at 201 Washington Street, call 401-351-4242 or visit www.trinityrep.com.
The show's first performance on April 15 at 7:30 p.m. is designated Pay What You Can. These tickets go on sale that night at 6:30 p.m., with a limit of one ticket per person.