Hugh Whitemore's
"Breaking the Code"
At Central Square Theater
Catalyst Collaborative@MIT, a science theater collaboration between MIT and Underground Railway Theater, will present Hugh Whitemore's "Breaking the Code," an elegant, moving portrait of mathematician Alan Turning, played by Allyn Burrows. Adam Zahler directs the production, which plays April 7 - May 8 at Central Square Theater, 450 Massachusetts Avenue in Cambridge.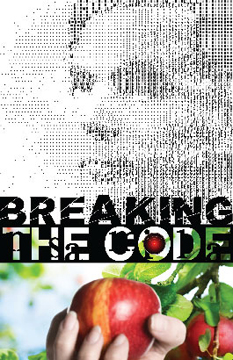 "Breaking the Code" is presented as part of FAST (Festival of Arts, Science, and Technology), an integral feature of MIT's 150 Anniversary Celebration and part of the Cambridge Science Festival. The production is sponsored in part by Novartis and the Council for the Arts at MIT.
According to Winston Churchill, Alan Turing made the single biggest contribution to the Allied victory over the Nazis when he broke the German's Enigma machine codes. He later worked on one of the first machines recognized as a modern computer. His 1950 "Turing Test" was designed to measure the intelligence of a machine. He asked whether a machine could think and if it would be possible for the machine to fool a human into believing that the machine was human, too.
Despite being a celebrated war hero, Turing was prosecuted in 1952 for gross indecency after he admitted to having a sexual relationship with a man. He avoided a prison sentence by agreeing to submit to experimental chemical castration. He also forfeited his security privileges and was no longer permitted to work for the UK Government Communications Headquarters. Two years later, in 1954, Turing committed suicide. In 2009 British Prime Minister Gordon Brown issued an apology: "On behalf of the British government, and all those who live freely thanks to Alan's work, I am very proud to say: we're sorry. You deserved so much better."
Hugh Whitemore's "Breaking the Code," an adaptation of Andrew Hodges 1983 biography, Alan Turing: The Enigma, examines Turing's expansive spirit, which embraced seeming contradictions: gay man and war hero, marathon runner and Disney fan. The play offers an intimate view of the remarkable man who is credited with laying the groundwork for computer technology and artificial intelligence.
Hugh Whitemore studied for the stage at the Royal Academy of Dramatic Art where he later became a member of the Council. His British television work includes "The Gathering Storm" about Churchill in the '30's, with Albert Finney and Vanessa Redgrave, and its sequel, "Into the Storm," to be shown by HBO/BBC later this year. Whitemore was the News International Visiting Professor in broadcast media at Oxford University in 2003-04. He is a fellow of the Royal Society of Literature, Honorary Fellow of King's College, London.
Allyn Burrows, making his Underground Railway Theater debut, is Artistic Director of Actors' Shakespeare Project, where he has appeared in "Henry IV Parts 1 and 2," "Timon of Athens," "All's Well That Ends Well," "King Lear," "Measure for Measure," and "Richard III." He received the 2006 Elliot Norton Award for his performances in "King Lear," "Five By Tenn," and "The Homecoming ." In Boston he has also appeared in "Shipwrecked!," "The Seafarer," and "Aunt Dan and Lemon." His Off-Broadway credits include "King Lear,""Bug," "Killer Joe," "Louis Slotin Sonata," "Closetland,"and "The Widowing of Mrs. Holroyd."
The "Breaking the Code" company also features Debra Wise, Danny Bryck, Marc Harpin, Liz Hayes, and Dafydd Rees.
Related Events include:
Sunday, April 10
Sunday Soiree
Congratulate the cast at a complimentary reception. Post-show.
Thursday, April 14
Artists & Audiences
Join the cast in a post-performance talkback. Post-show.
Thursday, April 21
Central Salon
Join the conversation with CST leadership with complimentary wine and cheese. Post-show.
Friday, April 22
The Story Collider
New York City's science-themed storytelling project. Pre-Show.
Thursday, April 28
Scholar Socia
Renowned academics illuminate ideas raised by the production. Post-show.
For information and tickets, call 866-811-4111 or visit CentralSquareTheater.org