---

National Theater of the United States of America
Presents "Chautauqua!"
At The ICA
Part History Lesson, Part Variety Show
The Institute of Contemporary Art/Boston will present the Boston premiere of The National Theater of the United States of America's (NTUSA) "Chautauqua!" from April 1 - 3 in the Institute's Barbara Lee Family Foundation Theater. The ICA is located at 100 Northern Avenue in Boston's Seaport District.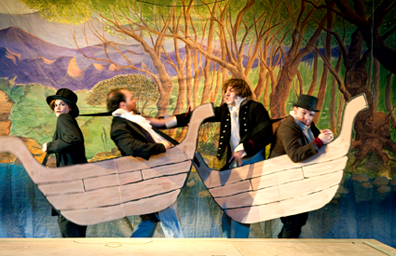 In 1874, the Chautauqua movement was founded on the banks of New York's Lake Chautauqua. "Chautauqua!" is inspired by that movement, which featured a wildly popular traveling lecture series that flourished in summer communities through the 1930's.
Scholars, scientists, magicians, jugglers, and dancers would gather under tents across the country in an effort to educate and uplift the common man. The original intent was simply to edify rural teachers, but it soon became a place where thousands of families could gather for several days of inspiration, education, and enjoyment.
People came from miles around to hear speakers of national renown, enjoy bands and plays, and engage in an open forum on the great issues of their day. As it evolved, the Chautauqua movement presented the latest thinking in politics, economics, literature, science, and religion.
By 1900, more than 400 summer communities had developed from the original Chautauqua model, and touring companies presented lectures, debates, and performances at sites throughout the country. Theodore Roosevelt, himself an active participant, dubbed Chautauqua "the most American thing in America" due to its enormous popularity and accessibility.

The program is revamped for each new venue, with lectures drawing on the history of each new location -- so Boston will serve as a special guest star in this show. Guest speakers and performers, including local artists and lecturers will join the company each night at the ICA to create a unique experience of information, entertainment and spectacle.
The Second Line Social Aid Pleasure Society Brass Band, a New Orleans-style street band based in Boston, will play at each performance. The evening's finale, created by Axe To Ice Productions, will feature: members of award-winning, all female, character-based performance troupe All the Kings Men, who create electrifying cabaret-style and modern vaudevillian productions; and members of Babes in Boinkland, a comic, rhinestone-bedazzled spectacle with brains and some serious sex appeal.

In addition, each of the three shows will have a special guest, as noted below:

Friday, April 1, 7:30 p.m.
Neil Miller, author of Banned in Boston
Miller will lecture on the Watch and Ward Society, a powerful quasi-vigilante police force and notorious literary censor operating for more than eighty years, from 1878 to the 1950's. Often going over the heads of local authorities, it orchestrated the mass censorship of books and plays, raided gambling dens and brothels, and utilized spies to entrap prostitutes and their patrons. Banned in Boston is an entertaining cautionary tale of the dangers caused by moral crusaders of all stripes.

Saturday, April 2, 7:30 p.m.
Marcyliena Morgan, PhD
Marcyliena Morgan, PhD is professor of African America Studies at Harvard and Executive Director of the Hip Hop Archives at the W.E.B.Dubois Institute. She will speak about the civil rights era in Boston, particularly the busing saga.

Sunday, April 3, 2 p.m.
Mikko Nissinen, Artistic Director of the Boston Ballet
Nissinen will discuss the time Igor Stravinsky was brought to town by The Boston Ballet only to be arrested for an unpatriotic version of the "Star Spangled Banner."

Winners of the 2007 Spalding Gray Award honoring innovative theatrical vision, the NTUSA uses this platform to explore the hotly debated relationship between High Culture and the Mass Mind. Part history lesson, part variety show, and channeling the form and style of the original Chautauqua Lectures through their own inimitable aesthetic and theatrical rhythm, NTUSA combines lecture, debate, scientific demonstration and tales of explorers with more traditional forms of entertainment such as dance, dramatic recital, feats of strength, and joke telling.

For tickets and information, call 617-478-3103 or visit www.icaboston.org.