---

FV Productions Hosts
The Birth Of Four New Plays
In "The 24s"
FV Productions plans to lock several actors and playwrights in a theater for 24 hours to create four short plays. A performance of the plays will occur during the final two hours of the creative process. This evening will be presented one time only, March 14, at 7 p.m., in the Durrell Theatre at the Cambridge YMCA.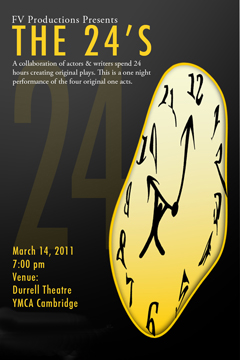 The 24s, under the direction of Faith Verrill, began in Portland, Oregon, with CoHo Productions. After six successful productions, Ms. Verrill brought her 24s east to the Boston Playwrights Theatre this past January. The creative process and performance was such a success that she decided to repeat the process at the Durrell Theatre in Cambridge.
Actors will meet on the evening of March 13 and be randomly cast by playwrights who will pull actor's names out of a hat. Each playwright has a limited amount of time to write their one act play. The entire ensemble will then stay up for the entire creative process to fashion lighting, sound cues, and limited costumes for each production. The process will be competed when the plays are performed before a live audience for the first and last time.

Some of the actors and playwrights involved in the March event include: Hanna Cranton, Juliet Bowler, Kim Klasner, Laurel Devancy, Madeleine Burns, Micah Tougas, Nicole Howard, Penelope Korff, Rachel Perry, Sarah Fader, Sheila Umano, Sonya Joyner, Tammy Brown, Tierra Allen, Valerie Stanford, Adam Lauver, Anthony F. Zingarelli, David Cohen, Kamau M. Hashim, Jonathan Braedley We…, Patrick Mongeau, Wilbert Berthaud Jr., Ron Radice, and MJ Halberstadt.

This special production is sponsored by The Middle East, Stone Hearth Pizza, and Au Bon Pain.

Durrell Theatre is located at the Cambridge YMCA, 820 Massachusetts Avenue. For tickets, visit www.brownpapertickets.org. Tickets will also be available at the door -- cash only.