---

"Ti-Jean and His Brothers"
February 10 – March 13
At Central Square Theater
Underground Railway Theater and Playwrights' Theatre at Boston University celebrate the 30th Anniversary of Derek Walcott's founding of Boston Playwrights' Theatre and commemorate the devastating 2010 earthquake in Haiti with a co-production of Walcott's powerful folk parable, "Ti-Jean and His Brothers." Playing February 10 - March 13, t he production will be directed by Megan Sandberg-Zakian.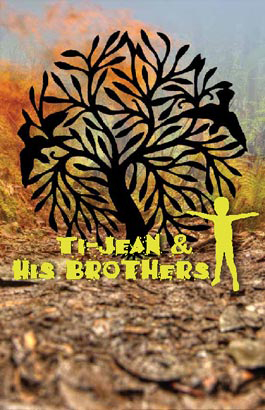 In "Ti-Jean and His Brothers," a Caribbean family is in crisis. Despite being warned of the "hidden nets of the devil" by their mother, three brothers, one by one, must confront evil on their own terms. Walcott's tale of creative survival finds a special urgency in this production, inspired by the culture and history of Haiti -- in particular that island's rich musical and visual art traditions.
The play celebrates the triumph of native resourcefulness over imperialist power while commenting on racism and the exploitation of the poor by the wealthy. In blending a morality play and a West Indian fable, Walcott explained his use of folklore and dialectical speech in this work, saying: "The great challenge for me was to write as powerfully as I could without writing down to the audience, so that the large emotions could be taken in by a fisherman or a guy on the street, even if he didn't understand every line." The play continues to be produced all over the world.

Written in 1957, "Ti-Jean and His Brothers" was first produced by the Arts Guild in St. Lucia, Derek Walcott's homeland. The play was re-envisioned by Walcott's Trinidad Theater Workshop in Port-of-Spain, Trinidad, in 1970 and was the first Walcott play to have an original score. In 1970, Walcott collaborated with Trinidadian Andre Tanker on the music and lyrics designed for a tour of the islands and, ultimately, for a 1972 performance at Joseph Papp's New York Shakespeare Festival in Central Park.
Born in 1930 on the island of Saint Lucia in the West Indies, Derek Walcott is a world-renowned poet and playwright and the author of numerous books of poetry, essays, and plays. He received the Nobel Prize for Literature in 1992. His "Dream on Monkey Mountain" received an Obie Award for the most distinguished foreign play. His plays have been produced by the New York Shakespeare Festival, the Mark Taper Forum, the Negro Ensemble Company, the American Repertory Theatre, Arena Stage, and the Guthrie Theatre, among others. His stage adaptation of Homer's The Odyssey was staged to sold-out London audiences by the Royal Shakespeare Company in 1993.

"Ti-Jean and His Brothers'" director, Megan Sandberg-Zakian, brings together an intergenerational cast for this special, celebratory production, including veteran Boston actors, Boston University students, and emerging artists. The company includes: Ramona Lisa Alexander, Cedric Lilly, Carol Ann Parker, Kervin Germain, Fedna Jacquet, Kristin Calabria, Joseph Ahmed, and Hampton Sterling Fluker.
Throughout the run of "Ti-Jean and His Brothers," the theater will offer pre-show performances and celebrations of Haitian art and culture, all free with the price of admission. Post-Show Conversations will feature Haitian Scholars, Artists, and Activists.
For tickets, call 866-811-4111 or visit www.centralsquaretheater.org.