Elevator Repair Service Adaptation
Of Hemingway's "Sun Also Rises"
At ArtsEmerson March 15 - 20
The inaugural season at ArtsEmerson: The World on Stage continues with the Boston premiere of Elevator Repair Service's "The Select (The Sun Also Rises)," an adaptation of Hemingway's 1926 novel. Performances will take place March 15 - 20 at the Paramount Mainstage, 559 Washington Street in Boston's Theatre District.
Many Boston theater-goers will remember the Elevator Repair Service production of "Gatz" at the A.R.T. last year. They return to Boston with a very different production -- a single-sitting adaptation of "The Select (The Sun Also Rises)," which had its world premiere at the Edinburgh Festival this summer, after spending a month in residence at ArtsEmerson developing the work (on a set built in the Paramount Center's scene shop). ArtsEmerson members were allowed a sneak peek at a dress rehearsal in August.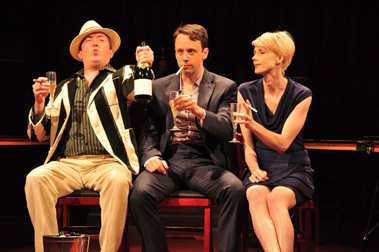 In this new production, the World War I is over, but some battles still rage on. This is the backdrop for Ernest Hemingway's first major novel, The Sun Also Rises, which follows a group of weary and frequently inebriated American expatriates on a search for identity, diversion and redemption. Told with tightly written prose, Hemingway's novel comes to life on a stage littered with liquor bottles and cafe chairs as the story winds its way through France and Spain and lands in the streets of Pamplona where bullfighting and the fiesta are in full swing. The production features the company's trademark sound design and highly energized choreography.

Adapted and directed by John Collins, "The Select (The Sun Also Rises)," is a co-production of Elevator Repair Service and New York Theatre Workshop, and commissioned by the Ringling International Arts Festival, John and Mable Ringling Museum of Art, in association with the Baryshnikov Arts Center; the Philadelphia Live Arts Festival with funding from The Pew Center for Arts & Heritage through the Philadelphia Theatre Initiative; and ArtsEmerson: The World on Stage.
Elevator Repair Service was founded by director John Collins and a group of actors in 1991. Since then, ERS has built a body of work that has earned it a loyal following and made the company one of New York's most highly-acclaimed experimental theatre companies. They combine elements of slapstick comedy, hi-tech and lo-tech design, both literary and found text, common objects and discarded furniture, and the group's own highly developed style of choreography.
For information and tickets, stop by the Paramount box office, call 617-824-8000 or visit www.artsemerson.org.
Production Photo: Mark Barton