A Review

The Struggle of Beliefs
By R. J. Donovan
Aaron Posner's "My Name Is Asher Lev," currently in its New England Premiere at Lyric Stage Company of Boston, is based on the novel of the same name by Chaim Potok. Set in Brooklyn after World War II, the dark, semi-autobiographical story is a study of art, religion, tradition, family and father vs. son.
Narrated by the character of Asher, the plot is a mass of conflicts and tensions. As a young boy, Asher develops an interest in art. Despite his genuine talent, it presents a conflict with his Jewish upbringing where art is considered, at best, to be a waste of time, and at worst, bordering on the evil.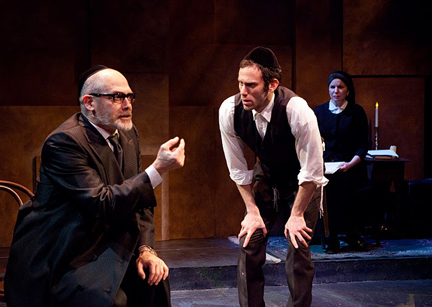 Further tensions arise because Asher's father plays an integral role in their Jewish community, working and traveling for their spiritual leader, the Rebbe. When Asher expands his artistic interests from simple subjects to crucifixions and nudes, his rigid father is incensed. Asher is not only embarrassing him, but going against Hasidic traditions and everything to which he himself has dedicated his life.
Asher's mother, meanwhile, is the dutiful wife and mother. But when she suffers the death of her brother, she persuades her husband to allow her to study (normally off limits to women) so she can further her deceased sibling's work. She is ultimately caught between the two men in her life as Asher's artistic world expands and her husband's condemnation of it explodes.
The interesting thing is that each member of the family is being spoken to by God, but in completely different ways. Asher maintains that his artistic passion is beyond his control. He MUST paint and draw. He struggles to find a way to capture what he sees. Ultimately, he paints two crucifixions that prove scandalous.
Novelist Chaim Potok began his own career with an interest in art, later turning to writing. In both cases, his work sparked controversy with his writing often banned in Jewish communities. Returning to painting later in life, he created his own version of the "Brooklyn Crucifixion" which serves the source of heightened emotion in the play.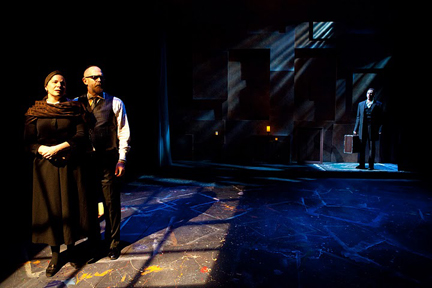 At Lyric, the performances by Jason Schuchman as Asher, Joel Colodner as his father and Anne Gottlieb as his mother are both intense and thoroughly believable.
Colodner and Gottlieb also play interesting secondary characters. In contrast to Colodner's appearing as the disapproving father, he returns to play Jacob Kahn, a respected artist who mentors Asher and, as a sort of father figure, badgers him into respecting the truth in his art. And while Gottlieb first plays Asher's mother (who does, indeed, acknowledge his talent), she returns to play a gallery director, who not only acknowledges his talent but helps him gain the audience he deserves.
With the story broken into four "movements," Scott Edmiston directs with an eye toward keeping the emotions taut. While the performances are often electrifying (one comes to believe Colodner actually is the disagreeably rigid father), the play's minor drawback is that Posner has a tendency to have his characters "tell" the story more than reveal it.
The lighting design dripping with representative shadows is by Karen Perlow, while the ingenious set, subtly created out of canvases and artist frames, is by Janie E. Howland. The sound design and original music by Dewey Dellay add nicely to the mood and authenticity of the story.
In the end, whether artist or blasphemer, the painter finds himself both revered and reviled. Providing yet further conflict for the tortured artist.
"My Name Is Asher Lev" is at Lyric Stage Company of Boston through March 12. For information, call 617-585-5678.
-- Production Photo: Mark S. Howard
-- OnStage Boston