Merrimack Rep Presents "Tryst"
Provocative Thriller Opens January 6
Merrimack Repertory Theatre opens 2011 with the suspenseful drama "Tryst" by Karoline Leach, running January 6 - 30, 2011. Directed by Joe Brancato, "Tryst" is a romantic London thriller about a handsome con-man who marries simple, well-off women only to leave them inexplicably poor and husbandless the day after their honeymoons. Things change when his charms meet their match. The suspenseful drama of love and betrayal includes adult content, sexual situations, nudity and is recommended for mature audiences.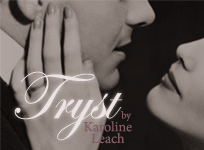 "Tryst" features Mark Shanahan and Andrea Maulella, reprising their roles from the 2006 Alley Theatre production. Mark Shanahan previously appeared in "Augusta" at Merrimack Rep while Andrea Maulella makes her MRT debut.
Director Joe Brancato previously directed "Tryst "Off-Broadway at the Promenade Theatre (where the production received an Outer Critics nomination for Best Play) as well as at the Alley Theatre in Houston. He is also the founder and Artistic Director of Penguin Rep in Rockland County, New York.

Brancato commented, "I discovered the play under another title on a dreary, dark day in February in London. I was drawn to the story but unimpressed by the interpretation I had seen. I immediately contacted the playwright, drove the five hours west of London to meet with her in Taunton, and told her of my reservations about what I had seen. As fate would have it when you live life with candor, she agreed, and together we moved forward to tell the story of George Love and Adelaide which you will witness at Merrimack Rep."
"This romantic psychological thriller can only find a home in theatres where the audiences have come to appreciate language and multidimensional characters. Under the artistic directorship of Charles Towers, Merrimack Rep has become such a haven for great writers as Karoline Leach who can take us to faraway places, yet somehow keep the storyline remarkably relevant and contemporary!"

Karoline Leach is a British playwright and author, best known for her book In the Shadow of the Dreamchild, which re-examines the life of Lewis Carroll, author of Alice's Adventures in Wonderland. Prior to becoming a writer, she studied acting and worked as both an actor and director in British theatre. Her first professionally produced work as a writer was an adaptation of Hans Christian Andersen's "The Snow Queen," commissioned by Orchard Theatre Company in 1989. An earlier version of the "Tryst" script, "The Mysterious Mr. Love," was produced in London's West End in 1997. "Tryst "opened off-Broadway at the Promenade Theatre, on April 6, 2006, and has subsequently been produced in Houston, Los Angeles and Montreal.
Special Events For "Tryst" include:
Pay What You Can Night
January 6 at 7:30 p.m.
Patrons may purchase tickets in cash at the Box Office between 4:30 - 7:30 p.m. and name their ticket price. Following the performance, there will also be a Director's Dialogue, where the director and designers field audience questions and describe how the play was staged.
Lowell Night
January 8 at 8 p.m.
Lowell residents may purchase tickets for $10 at the box office from 5 - 8 p.m. Proper ID required.
Opening Night
January 9 at 7 p.m.
Audience members are invited to join Merrimack Rep's staff and cast after the show in raising a glass of champagne to celebrate the opening of the production.
Cookie Matinee
January 12 at 2 p.m.
Patrons will enjoy complimentary cookies and coffee in the lobby before the show, courtesy of Brew'd Awakening Coffeehaus.
Post Show Forums
January 13, 20 and 27 at 7:30 p.m.
Audiences are invited to stay after the performance to learn the inside scoop and chat with the actors.

For tickets and information, stop by the box office at 50 E. Merrimack Street in Lowell, call 978-654-4678 or visit www.MerrimackRep.org.