A Review

The Struggle For Survival
By R. J. Donovan
The Huntington Theatre Company is tackling a tough topic in "Ruined," and the effect is riveting. Directed with finesee by Liesl Tommy, the production is presented in partnership with the La Jolla Playhouse and Berkeley Repertory Theatre.
Playwright Lynn Nottage, who picked up the Pulitzer Prize for "Ruined," traveled to East Africa in 2004 to interview women of the war ravaged Democratic Republic of the Congo who told her horrific personal stories. Rape was being used as a weapon to destroy lives and communities.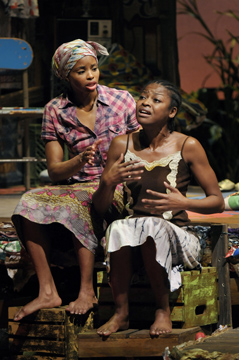 A "ruined" woman is one who has been raped and tortured. Despite the debasing terror of enduring such an experience, these women were subsequently shunned by their husbands and families for shaming them. Considered damaged goods, they were left with no place to go and no one to take care of them. Many -- already with deadened souls -- had become pregnant through their unspeakable and repeated atrocities, only adding to the sorrow they carried.
In "Ruined," Mama Nadi provides a respite, of sorts. She runs a bar and brothel, providing a place for these women, many of whom have turned to prostitution as a way of existing. Mama Nadi keeps all the money they earn, so they are not paid for being treated like a piece of meat. But she gives them a place to stay and food on the table, slight though it may be. (Mama makes it clear that she eats first.) Still, the place is a safe haven for these lost women.
While this is not an easy topic to turn into a play, Nottage handles the story with precision, actually introducing humor here and there. But when the plot turns dour, the details are almost too savage to hear.
As the story unfolds in the steamy heat of the jungle, Christian, a salesman who services the bar, barters with Mama into taking two young women into her fold. Salima is a wife and mother kidnapped from the garden at her home. The other is Sophie, who's been so sexually mutilated that she can barely walk.
Mama insists she wants only wants one girl, but Christian pleads, begs and bargains until she agrees. It turns out Sophie is his niece. With a good head for numbers, she proves her worth to Mama by helping with the bar's financial details. She also sings with the bar's two-man band. The main girl at the bar is Josephine, a prostitute who's the daughter of a village chieftain.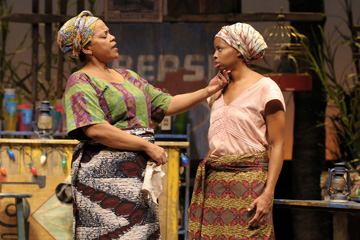 The ensemble company is strong throughout. Tonye Patano (far left with Carla Duren) is Mama, loud, domineering and in your face; a woman who's learned the hard way that that steely strength also requires diplomacy. Mama serves the government and the rebels equally, with the only stipulation being that bullets are checked at the front door. Patano ultimately shows Mama has a heart, but not in a sloppy, sentimental way. And Nottage provides the character with a jaw-dropping twist that Patano handles with skill.
As Sophie, the sweet but damaged song bird of the brothel, Carla Duren is so convincing you feel her pain with each step. Her subtle performance draws you close.
Zainab Jah is Josephine, the spotlight girl who transforms herself with a series of wigs to become the object of desire -- despite the rage that burns within.
As Christian, Oberon K.A. Adjepong is wonderful as the always-looking-to-make-a-deal salesman. He helps to set the oppressive temperature of the jungle by silently downing an entire bottle of Fanta in one swoop at the top of the show. Christian is a former alcoholic and in one particular scene he's forced to imbibe by The Commander (Adrian Roberts) and Adjepong brings a resigned helplessness to the moment. He also looks at Mama as more than a client -- a proposition she waves off.
One of the standout scenes of the evening comes as Salima recounts her abduction. The details are brutal and Pascale Armand imparts the soliloquy with a reality that's almost too much to bear.
The soldiers, rebels and government officials are all double-cast with the men swapping characters with the aid of quick costume changes.
Clint Ramos' set puts us squarely in the jungle with a bar that's hobbled together out of fronds and bamboo and discarded materials and rubbish. Lap Chi Chu's lighting complementsit all nicely. And special note should be made of the choreography. One might not expect subject matter such as this to involve dancing, but it does, and Randy Duncan's choreography lends a rich authenticity to the story -- as does the onstage music performed by Alvin Terry and Adesoji Odukogbe.
As Lynn Nottage makes it clear in "Ruined," profiteering marauders have brutalized both the land and its people. This is a place where nobody's safe. Still, the courage of her characters comes through on a host of levels.
While the performance lasts a little over two hours, the effect will remain with you.
"Ruined" is at The Huntington Theatre through February 7. For information, call 617-266-0800.
-- Production Photo: Kevin Berne
-- OnStage Boston