A Review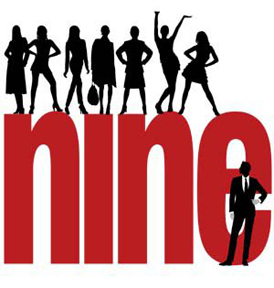 Learning More, Knowing Less
By R. J. Donovan
Guido Contini is one of the world's most illustrious film directors . . . and one of the world's most rampant womanizers. "Not since Chaplin" has there been such an artist. But he's facing a dilemma, as well as a mid-life crisis. He needs a hit. Despite prior success, his last few films were flops. So now he must come up with a sensational script for his next project. He's signed on the dotted line and he's told everyone he's putting the final polish on the screenplay. But the truth is that his creativity is blocked and he hasn't written a word. Worse, he doesn't even have a clue what the film should be about. Adding to it all, he's facing 40 and his marriage is on the rocks.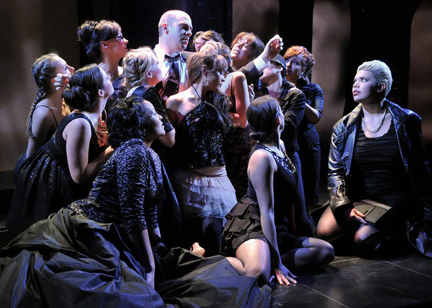 As Guido struggles for creativity, he seeks inspiration from the many women in his life. His wife, his mistress, his producer, his past conquests, his mother. These are his muses, as well as the cast of his life. They all appear to him -- in person, in his memories, and in his mind -- as he thrashes about, racing against the clock to come up with a film before the deadline.
This is the musical "Nine," at Speakeasy Stage Company. With a book by Arthur Kopit and music and lyrics by Maury Yeston, "Nine" is inspired by the classic Fellini film, "8 1/2." The cast features one man, 15 women, and a little boy.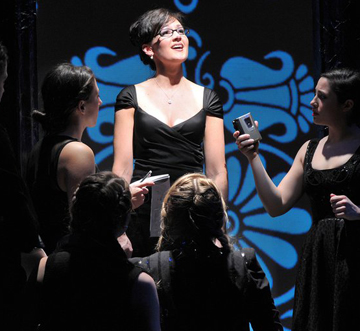 While the book can sometimes be overly talky, the score contains some lovely moments, most providing heartfelt character reveals. Among them, "My Husband Makes Movies," sung by Guido's wife Luisa as played by Aimee Doherty (at left), whose beautiful delivery of the song is a wonderful example of how effectively one musical number can tell a character's inner story.
Luisa is a film star in her own right, but she's been neglected by the man who puts his heart into his art instead of his marriage. As the long suffering wife, Doherty delivers the piece beautifully, grabbing your heart, particularly in the number's second half.
As Guido churns, he pleads with his former leading lady (Jennifer Ellis) to return to his cinematic world, hoping she can help him recreate his past success, mostly by repeating what's already been done. She rejects the idea, refusing to play the same role over and over and over again ("Unusual Way").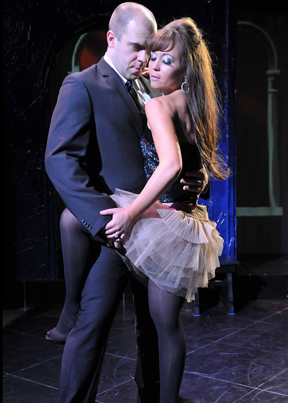 His soon-to-be-divorced mistress (McCaela Donovan) begs for his attention in "A Call From The Vatican" (at left).
He remembers himself as a young boy (Erik March), meeting a busty prostitute (Kerry Dowling) on the beach ("Be Italian"). And he subsequently relives the pain of being shamed by the nuns at his boarding school for his exploration ("The Bells of St. Sebastian").
Guido finally makes his movie in "The Grand Canal," and the thing is an over the top mess. The number is fun to watch (with a nice comic turn from Shana Dirik), although it eventually brings Guido to a moment of desperation.
His mother (Cheryl McMahon) points out his flaws and provides guidance, especially in a nice scene at the very end of the evening.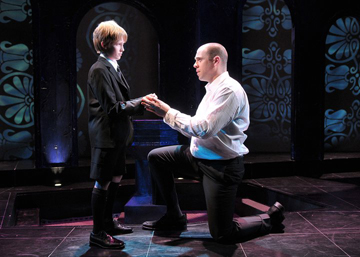 In the end, he is resurrected by a vision of himself as a boy ("Getting Tall," at left).
A couple of the numbers, while entertaining, serve more to fill than add to the plot. "Germans At The Spa" is one example, but at SpeakEasy it's saved by a wonderfully comic performance, again by Dirik as Maddelena. And in "Folies Bergeres," Guido's producer (Maureen Keiller) projects her dream for him to create the perfect musical. It adds color, feather boas and a kick line, but it stops the story for a moment, albeit in a fun way.
Throughout all of this, the character of Guido has to come off as flawed but disarmingly lovable in order for him to connect with the audience. Yes he's two-timing everyone in town. And yes, he's hurting people. But he's not really callous and he's not oozing self-entitlement. Rather, he's a man of passion; having it, losing it and finding it again -- for his work, for his relationships and for his life. He is who he is, and none of the damage is intentional. On all counts Timothy John Smith succeeds. He's never mean, never cruel. Just a little boy who needs the blush of maturity.
Director Paul Daignealt keeps the action flowing on what amounts to a rather small playing area for such a large cast. Eric Levenson's set features a wall of dramatic archways upstage, which, out of necessity, moves a lot of the action to the stage's edge. Adding a sunken baptismal font in the center of all this dictates that a lot of the action has to take place along a strip at the lip of the stage.
Adding tremendously to the atmosphere is the projection design by Seaghan McKay. The wall behind the arches is a beautiful collection of locations from cities to churches to beaches to cemeteries. It's all quite beautiful, and it adds greatly to the show's emotional tone.
"Nine" originally opened on Broadway in 1982. Capturing the Tony Award as Best Musical, the production was directed by Tommy Tune and starred Raul Julia. A revival in 2003 picked up two more Tony Awards (including Best Revival) and brought Antonio Banderas to New York for his Broadway debut. This production was memorable for its full, intricately tiled upstage mosaic wall, which at one point, erupted into a waterfall that gently flooded the playing area. Banderas was a charming and larger-than-life Guido, surrounded by such ladies as Laura Benanti, Jane Krakowski, and Chita Rivera, and others.
A film adaptation came along in 2009, directed by Rob Marshall and starirng Daniel Day-Lewis. Based on the phenomenal success Marshall generated with the film version of "Chicago," it seemed destined for greatness but came up short. Marshall tinkered with the original, and despite the fact that the production numbers were lavishly staged and gloriously filmed, "Nine" floundered, barely playing in some markets.
SpeakEasy sticks to the original, including the clever opening where Guido "conducts" the women in his life, all dressed in black formal wear (from Charles Schoonmaker) as through he were leading an orchestra. It sets the tone nicely for an entertaining and "very unusual" evening.
"Nine," from SpeakEasy Stage, is at the Calderwood Pavilion at the Boston Center For The Arts, 527 Tremont Street, through February 26. 617-933-8600.
-- Production Photo: Craig Bailey/Perspective Photo
-- OnStage Boston