Imaginary Beasts Presents
Fangtastic Fun With
"Dracula, Re-Vamped!"
The Imaginary Beasts ensemble is dusting the cobwebs off "Dracula, Re-Vamped!" -- one of its most popular "pantos" -- giving it a fresh transfusion, and bringing it to the Griffen Theatre in Salem from January 14 – 29. Matthew Woods directs the production.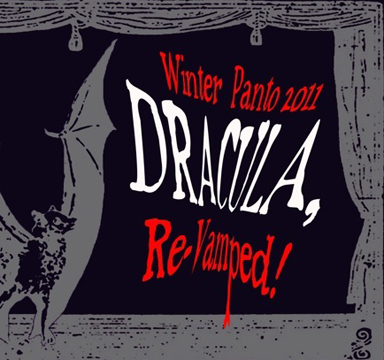 What exactly is a pantomime -- otherwise known as a "panto?" Marcel Marceau in white face? Story filler for a ballet? An evening of charades? Audiences will find none of that in the traditional British panto. Instead, it involves a topsy-turvy world where the Principal Boy is played by a girl, the Grand Dame is really a man, the animals dance, and bad puns are the order of the day. At the center of the spectacle, the battle of good vs. evil is played out against the backdrop of classic stories, fairy tales and popular legends.
In "Dracula, Re-Vamped!," centuries have passed and conditions are right for the wicked Count Dracula to rise from the dead and seek out his one true bride. He sets his sights on the young and lovely Miss Lucy, determined to do everything in his power to claim her for his own. But poor Lucy's already truly, madly, deeply in love with the young hero, Jonathan Harker. Will true love conquer all, or will Count Dracula cast his evil spell and destroy the hope of young lovers every where?

Add to the plot an outraged bride from Dracula's past, an over-sized pup, a potent Good Fairy, and an indispensable Dame and you have the ingredients for one out-of-control panto.
The Griffen Theatre is located at 7 Lynde Street in Salem. For tickets and information, call 978-825-0222 or visit www.imaginarybeasts.org. Tickets will also be available at the door.