Independent Drama Society Presents
Mamet's "Glengarry Glen Ross"
The Independent Drama Society continues its 2010-2011 season with David Mamet's "Glengarry Glen Ross." Directed by former Lyric Stage Producing Associate Brett Marks, the production plays from January 14-22 in the Plaza Black Box Theatre at the Boston Center for the Arts, 539 Tremont Street in Boston's South End.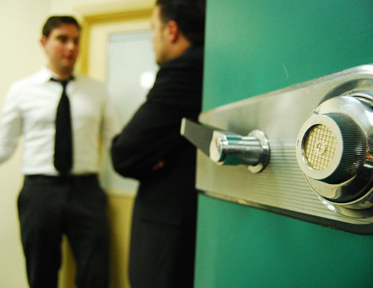 In its third season, dubbed "a season of love and loathing," the Independent Drama Society is exploring how powerful emotions can inspire ordinary human beings to do the impossible -- or cause their ultimate downfall.
Mamet's Tony Award-nominated and Pulitzer Prize-winning drama examines the inner workings of a small real estate firm under a job-threatening sales contest. The production features Jeremy Browne, Michael Fisher, Craig Houk, Adam Lauver, Bob Mussett, Michael Pevzner, and Phil Thompson.
Marks commented, "It is a privilege to work on this dynamite play. The conflict between different generations of salesmen, pitted against each other in a sales competition, speaks easily to the greed still inherent in our American culture. We're incredibly fortunate to have a top-rate group of actors, designers, and staff working on this production. Frankly, I'm excited just to be in the room."
Mamet's plays include "Speed-the-Plow," "Oleanna," "Sexual Perversity in Chicago," and "American Buffalo." His screenplays include "The Verdict" (Oscar nomination), "The Untouchables," "Glengarry Glen Ross," and "Wag the Dog" (Oscar nomination).
Marks' recent directing credits include "Cherry Smoke" with Gurnet Theatre Project, and pieces in the Boston Theatre Marathon on behalf of the Huntington Theatre Company, The Lyric Stage Company, Orfeo Group, and the Gurnet Theatre Project.
For tickets and information, visit www.bostontheatrescene.com.