Trinity Rep Re-Images
Arthur's Miller's "The Crucible"
February 4 - March 13
Trinity Rep in Providence continues its 2010-2011 Season with Arthur Miller's masterpiece, "The Crucible." Directed by resident company member Brian McEleney, the show runs February 4 - March 13 in the Chace Theater.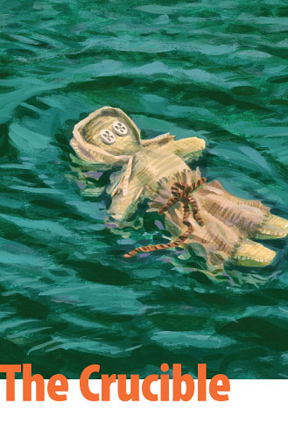 Something evil is loose in Salem, leaving the residents of the small New England hamlet thrown into a fiery labyrinth of lies and fear-mongering. What's not clear is who – or what – that evil might be. After a young woman's accusation triggers a deadly chain of events, the community of Salem must question whom they can trust, whom they no longer believe, and how far they're willing to go in the name of the truth.

McEleney commented that he values the play for its unflinching look at the issues surrounding the Salem Witch Trials, and how they reflect on contemporary politics.
"'The Crucible 'is a tremendously compelling personal story. This play just jumps off the page. It's very much of its political time, but brilliantly, it's not a propaganda piece, it doesn't preach. It's a play that gives voice to real people who lived through a terrifying political climate; people who really lived; who were really executed; and whose lives serve as models of personal heroism for us all."

Resident acting company members Stephen Thorne and Angela Brazil will play husband and wife John and Elizabeth Proctor, well-respected members of the Salem community who are torn apart by John's affair with 17-year-old Abigail Williams (Olivia D'Ambrosio).
Although John has tried to put the past behind him and stand by his wife, Abigail has other plans. When her attempts at seduction aren't enough to bring John back into her arms, she takes a different tack, harnessing the town's fear and rumor mill to incite a witch hunt. The inquisition starts those on the fringe of Salem society until it culminates with an attack against Elizabeth Proctor in one final attempt to ensnare John for good.

"The Crucible" also features Mauro Hantman, Barbara Meek, Anne Scurria, Fred Sullivan Jr., and Rachael Warren. Bob Burky, Terrell Donnell Sledge and John Tracey round out the cast.
To aid in McEleney's desire to release the tale from its place in history and to move it into a more timeless realm, set and lighting designer Eugene Lee's set features a three-story photographic mural of Providence City Hall as a focal point. The theater states this is not to say that this production is actually happening in Providence, but rather, that this could be happening anywhere.
McEleney says his motive is two-fold in relocating the time period: to bridge some of the distance between the characters and the audience that can occur when this play is presented with historical pageantry, and to honor Miller's hope that audiences can draw some of their own parallels to the realities of the present day. He sees the political climate in this play as "a climate in which the loudest voices can overwhelm the voices of reason…in which selfishness and fear, whether imagined or real, prevails over reasonable arguments."
Arthur Miller was born in New York City and studied at the University of Michigan. His plays include "The Man Who Had All The Luck," All My Sons," Death of a Salesman," "A View from the Bridge," "A Memory of Two Mondays," "After The Fall," "Incident at Vichy," "The Price," "The Archbishop's Ceiling," "The American Clock ," and many others. In addition to the Pulitzer Prize, he won the New York Drama Critics Circle Award twice, received two Emmy Awards and three Tony Awards for his plays, as well as a Tony Award for Lifetime Achievement.

Tailback sessions will be held after every performance of "The Crucible." Audiences are invited to share their response to the play's production and themes for approximately twenty minutes.
For tickets and information, stop by the box office at 201 Washington Street, call 401-351-4242 or visit www.trinityrep.com.