---

Theresa Rebeck's "The Undertstudy"
At Lyric Stage, January 1 - 29, 2011
Following on the heels of "The Life and Adventures of Nicholas Nickleby" -- described as the most ambitious project in the history of The Lyric Stage -- the venerable Boston theater company will present the Boston premiere of Theresa Rebeck's acclaimed comedy, "The Understudy," from January 1 - 29.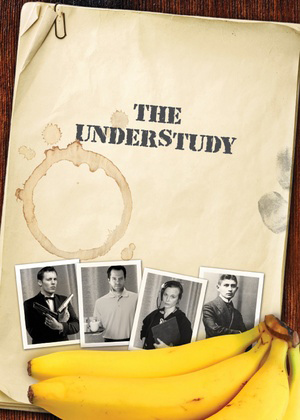 When a Hollywood action star tries to prove himself in a serious Broadway play -- by, of all people, Kafka?? -- he comes up against a new understudy with both a chip on his shoulder and a tangled romantic past. The results poke affectionate fun at the inner workings of the world of theatre.

The cast features: Kelby T. Akin as Jake, a famous Hollywood action-film star; Christopher James Webb as Harry, a down-on-his-luck actor; and Laura Latreille as Roxanne, an actress turned reluctant stage manager. Larry Coen, one of Boston's busiest and most popular comic actors (and Elliot Norton Award winner for directing) is making his Lyric Stage directorial debut with the piece.

Theresa Rebeck 's New York productions include: "Mauritius" at the Biltmore Theatre in a Manhattan Theater Club production; "The Scene," "The Water's Edge," "Loose Knit," "The Family of Mann," and "Spike Heels" at Second Stage; "Bad Dates," "The Butterfly Collection," and "Our House" at Playwrights Horizons; and "View of the Dome" at New York Theatre Workshop. "Omnium Gatherum" (co-written, finalist for the Pulitzer Prize in 2003) was featured at the Humana Festival, and had a commercial run at the Variety Arts Theatre. "The Understudy" premiered at the 2008 Williamstown Theatre Festival and ran in New York at the Laura Pels Theater in a Roundabout Theatre Company production as part of their 2009-10 season.
Rebeck has also written two novels, Three Girls and Their Brother and Twelve Rooms With A View. For television, she has written for "Dream On," "Brooklyn Bridge," "L.A. Law," "American Dreamer," "Maximum Bob," "First Wave," and "Third Watch." "Mauritius" was originally produced at The Huntington Theatre, where it received the 2007 IRNE Award for Best New Play as well as the Elliot Norton Award.
Larry Coen received a 2010 Elliot Norton Award this past season for directing "Phantom of the Oprah" at Gold Dust Orphans in addition to two previous Elliot Norton Awards for acting. His directing credits also include: "Ruthless!" (SpeakEasy Stage Company); "Twilight Zone" and "Willie Wanker and the Hershey Highway" (co-directed with James Byrne) (Gold Dust Orphans); world-premiere productions of "Shel Shocked" by the late Shel Silverstein (Market Theater); "MLK: We Are the Dream" (American Place Theater, NYC); "Fax of Life" (Manhattan Punchline).
As an actor he recently appeared in Lyric's "Nicholas Nickleby." He is also the author of "Epic Proportions," which ran for ninety-three performances on Broadway at the Helen Hayes Theatre, directed by Jerry Zaks and starring Kristin Chenoweth and Alan Tudyk. ("Epic Proportions" was produced by Lyric Stage in 2002.) Larry is also Artistic Director of City Stage Co., which provides free arts education programs and performances for low-income kids and families.
For tickets and information, stop by the Lyric box office at 140 Clarendon Street, call 617-585-5678 or visit lyricstage.com.