A Review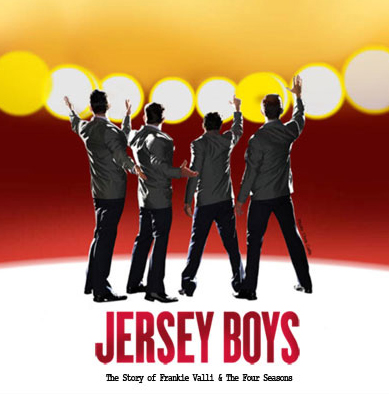 The Boys Are Back In Town
By R. J. Donovan
After a phenomenal run at The Shubert in 2009, "Jersey Boys" has worked its way back to Boston for another go, this time at The Colonial.
Is there anyone who, by now, does not know that this is the rags to riches story of four guys from Bellevue, New Jersey -- Tommy DeVito, Nick Massi, Bob Gaudio and Frankie Valli. While it's filled with hit singles of the period, it's not a standard "jukebox musical." By that I mean it's not just a lightweight series of songs, loosely strung together to make an evening. Rather, this is a biographical look at how the group came to fame, framed by the colossal hits that charmed the world.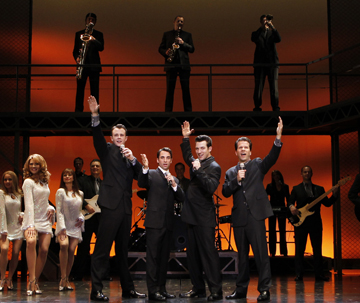 The fourth wall is broken as the guys themselves narrate the story. And as DeVito says in speaking directly to the audience at the top of the show, you ask four guys what happened, and you'll get four different stories.
Tommy really sees himself as the creator of the group. And to a degree, he was. With the patina of a small town thug, he pulled the guys together, brought Valli into the fold as a novice, dealt with bookings, worked the deals and kept plowing forward.
What he didn't have was the finesse to take the group (under a revolving door of 60's pop names) beyond playing at two-bit dives and bowling alleys. It was the introduction of genius songwriter Bob Gaudio that made everything gell. One of the true goose bump moments of the show comes with Gaudio taking control, purely through his talent, while the rough and tumble Tommy is removed from his self-imposed pedestal and banished into the cubby hole of a guy who thinks he knows more than really does.
Gaudio had already had the super hit "Who Wears Short Shorts," but when he began to write for Valli, everything came together -- for all of them -- as never before. Another goose bump moment comes when The Four Seasons break through with "Sherry," followed by "Big Girls Don't Cry" and "Walk Like A Man." It was with this series of hits that the group came into its own, and the performances and staging details of the three run-on numbers reflect that perfectly.
As the show is biographical, it includes all the bumps and dents of their lives including gambling, drugs, adultery, divorce and more. It's also important to note that while Valli eventually had his name in the title, he was merely one of four in the beginning. He grew into the spotlight, and rightly so.
At the heart of all this is a wonderful cast, some of whom we've seen before. Matt Bailey is Tommy DeVito, the coarse, know-it-all who's all confidence and braggadocio-cool. Steve Gouveia (from the Broadway cast) is Nick Massi, the quiet also-ran self-titled "Ringo" who doesn't say much -- but when he does, watch out. Quinn VanAntwerp is Gaudio, and he's just great as the baby-faced hit writer who never really wanted a career as a performer. He's got an easy, open way about him and a very nice singing voice, especially in "Cry For Me."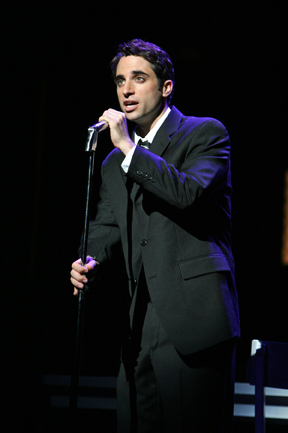 And then there's Joseph Leo Bwarie (at left) as Frankie Valli. With the voice of an angel, he appeared in the tour that played here in 2009, and he was wonderful. The great news is that the added time playing the role has allowed him to develop a depth and shading that's quite amazing. He sings with effortless control, lobbing the falsetto top notes into the sky. He plays the dramatic moments with confidence. And he builds nicely from the newbie kid in the shadows to the star who takes responsibility for the sins of his brothers. (Again, another "shifting of control" goose bump moment occurs when he not only saves Tommy's butt but assumes responsibilities for DeVito's gambling debts for the good of the group.)
The supporting cast is also first rate. Three women play all the female roles, sometimes with split second costume and wig changes. Kara Tremel is Mary Delgado who soon becomes Mrs. Valli. Tremel is particularly earthy (and laugh out loud funny) in the bar scene where she and Frankie have their first date.
Also excellent is Joseph Siravo in multiple roles as Gyp DeCarlo, a record exec and a priest. Siravo, too, is a veteran from the show's last run. And Jonathan Hadley is flamboyant uber-producer Bob Crewe.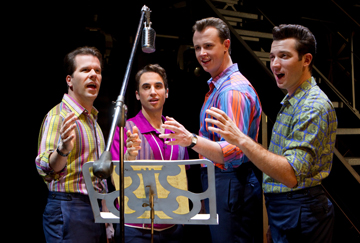 And finally, there's the music, which comes rushing at you with heart and force. Hit after hit, from those mentioned above to "Rag Doll" and "Dawn," "Let's Hang On," "Bye Bye Baby," "Can't Take My Eyes Off Of You," "Let's Hang On," and "My Eyes Adored You." The Four Seasons sold 17 million records worldwide -- all before they were thirty years old. Of the 33 numbers in the show, five were #1 hits and 11 others were on Billboard's Top Ten list. The really interesting thing about it all is learning the backstory of how so many of the songs came to be.
The story is finalized with a reunion of the boys as Valli and company are inducted into the Rock And Roll Hall of Fame. We learn what became of each as time passed, and then it's on to the dazzling "Who Loves You" finale. As I noted the last time the show played here, at the final blazing high note, the flash bulbs pop one last time and Frankie Valli & The Four Seasons are forever frozen in time as one of the most successful musical groups ever.
With a book by Marshall Brickman and Rick Elice, "Jersey Boys" premiered at San Diego's La Jolla Playhouse in 2004. It opened on Broadway in 2005 and walked away with four Tony Awards including one for Best Musical.
As on Broadway, the touring production is beautifully staged by Des McAnuff. With hardly a second that doesn't include movement, the effect is very cinematic. Crackerjack choreography is by Sergio Trujillo with dynamic lighting by Howell Binkley.
Helping to set the tone of the 60s are Jess Goldstein's thoughtful costuming and Michael Clark's great projections that appear on LED screens high above the industrial set designed by Klara Zieglerova.
And in a show that's so about the music, you can't forget the musicians making it all happen (led by John Samorian), who are razor sharp throughout. Special kudos to highly-visible, high-energy drummer Mark Papazian who spends a good deal of the night rolling on and off stage with his drum kit.
Boston's extended Christmas present this year is this knock-out engagement of "The Jersey Boys."
"Jersey Boys" is at is at the Colonial Theatre through January 30. For information, call 800-982-2787.
-- Production Photos: Joan Marcus
-- OnStage Boston