Keith Lockhart & The Boston Pops
Open 2010 Holiday Pops Season
On December 8
Jim Dale, Jane Krakowski and Melinda Doolittle
To Be Featured At December 15 "Company Christmas"
One of Boston's most beloved holiday traditions, the Holiday Pops season, under the direction of Keith Lockhart, returns to Symphony Hall from December 8 - 26 with a program that combines classics of the holiday season with exciting new arrangements of some Christmastime favorite.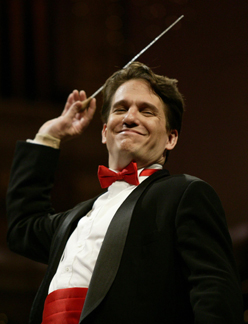 Always a highlight of the Holiday Pops programs, the critically-acclaimed Tanglewood Festival Chorus will join the orchestra for the entire season of 37 performances. In addition, Santa Claus will make a special guest appearance at each of the concerts.
The Holiday Pops season program opens with a traditional holiday favorite, "Hark! The Herald Angels Sing," followed by the magnificent "Hallelujah" chorus from Handel's "Messiah," featuring members of the Tanglewood Festival Chorus. The first half of the program also includes Three Christmas Spirituals, a holiday medley featuring singer Renese King or Gabrielle Goodman in renditions of "My Lord, What a Morning," "Rise Up, Shepherd" and "Glory Hallelujah."
The second half of the program continues with more holiday classics, including "I'll Be Home for Christmas," "Rudolph the Red Nosed Reindeer," and the signature holiday tune of the Boston Pops, Leroy Anderson's "Sleigh Ride."
New this season, "Bring Them Home," a song about bringing the American soldiers home for the holidays, will feature the Tanglewood Festival Chorus, accompanied by a new video by Susan Dangel and Dick Bartlett. Co-written by Jeff Meegan and Emmy Award-winning songwriter Brad Hatfield, "Bring Them Home" appears on the critically acclaimed Christmas album "Season Of Love."
The Christmas Is For Children Sing-Along closes out the holiday program, giving audiences the chance to sing with Keith Lockhart and the Pops on Christmas favorites such as "Jingle Bells," "Rudolph the Red-Nosed Reindeer," "The Chipmunk Song," "A Holly Jolly Christmas," "Deck The Halls" and "We Wish You A Merry Christmas."
Other holiday classics to be performed by the Pops this season include "Santa Claus Is Coming to Town," "Frosty All the Way," and "The Christmas Song."
Of special note for families, the season includes 7 special matinee programs for children. Acclaimed Boston actor Will LeBow will join the Pops for these special programs to narrate "How the Grinch Stole Christmas" and "A Visit from St. Nicholas." These family concerts include a children's sing-along, plus parents can bring cameras to take photos with Santa after the concert. Table seats will include a kid-friendly menu, along with special holiday treats. For a list of these family performances, visit www.bostonpops.org.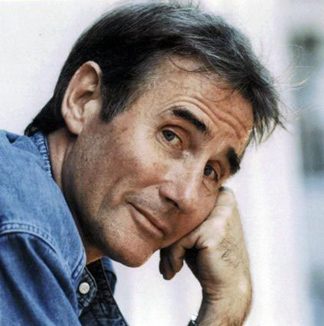 Tony and Grammy Award-winning Jim Dale (left) will narrate "The Night Before Christmas" accompanied by the Boston Pops Orchestra for the opening concert on December 8, with repeat performances on Thursday, December 9, at 4 p.m. and 8 p.m. The performance will be recorded to accompany a deluxe edition of Number One New York Times best-selling children's book author Jan Brett's picture book version of The Night Before Christmas,scheduled for publication in Fall 2011 from G.P. Putnam's Sons Books for Young Readers. An innovative app is also planned.
Mr. Dale is well known for narrating the Harry Potter series of audio books. Mr. Dale has won two Grammy Awards for "Best Spoken Word Album for Children" for his narration of Harry Potter and the Goblet of Fire (2001) and Harry Potter and the Deathly Hallows (2008). His additional awards include a Tony Award and Drama Desk Award for his starring role as legendary cricus showman P. T. Barnum in the Cy Coleman musical "Barnum," and Drama Desk Awards for his performances in "Scapino" and Kurt Weill's "The Threepenny Opera."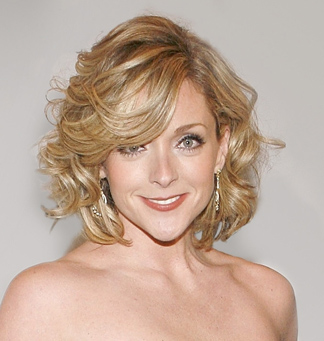 On Wednesday, December 15, Keith Lockhart will lead the 27th annual "A Company Christmas at Pops," one of the BSO's most important annual fundraising events. Tony Award-winner Jane Krakowski (left) of NBC's "30 Rock" will headline the concert, which will also feature "American Idol" finalist Melinda Doolittle on the first half of the program. William F. Achtmeyer and Richard F. Connolly, Jr. are co-chairs of this event, which aims to raise more than $900,000 this year.
"A Company Christmas at Pops" is a unique holiday gala that celebrates the extraordinary partnership between the corporate community and the Boston Symphony Orchestra. The doors open at 6:00 p.m. for a festive pre-concert reception, a gourmet boxed dinner and the concert at 8 p.m. in the hall. The revenue raised through this event helps support the BSO's Youth and Community Outreach programs throughout the year.
Building on a beloved 27-year tradition, 200 youngsters from children's service organizations throughout greater Boston will be invited as special guests to this year's event. The "A Company Christmas at Pops" Children's Program will take place at the Fairmont Copley Plaza Hotel in Boston where children will enjoy dinner, a visit from Santa, costumed characters, and goodie bags provided by a variety of in-kind donors. Silver Fox Motorcoaches will provide buses to transport the children from the Fairmont Copley Plaza Hotel to Symphony Hall.
This holiday season, audiences can help donate musical instruments to school music programs in need by sending a free electronic holiday greeting card, featuring music from the Boston Pops. For every electronic card sent, season sponsor Fidelity Investments will donate $1 towards the purchase of new instruments for school programs in need. To lend a hand, visit the Fidelity FutureStage website, www.FutureStage.com.

For information and tickets, stop by the box office at 301 Massachusetts Avenue, call 617-266-1200 or 888-266-1200, or visit www.bostonpops.org.
Keith Lockhart Photo: Michael Lutch