Stoneham Theatre Presents
Tidings of Comfort, Joy and True Grit
With
"Best Christmas Pageant Ever"
& "Sister's Christmas Catechism"
Stoneham Theatre will celebrate the holidays by presenting two special shows in repertory: "The Best Christmas Pageant Ever" from November 26 - December 23, and "Sister's Christmas Catechism" from December 1 - 19.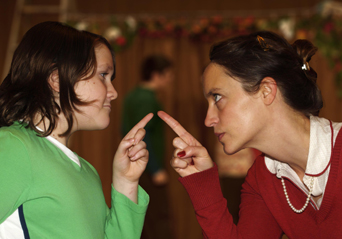 "The Best Christmas Pageant Ever," written by Barbara Robinson and directed by Chris Carcione, is a holiday show for the whole family. A small-town Christmas Pageant gets hijacked by the roughest, loudest, rowdiest kids in town. And just when all seems beyond all repair, the true spirit of Christmas is discovered in the most unexpected of ways.
The "Pageant" cast features Stacy Fisher, Kathy St. George, Dee Nelson, Neil McGarry, and Sarah Jones, with the youngsters played by Stoneham Theatre's young company performers, Stowe Brown, Phillip Dragone, Julia Talbot, Casey Moriarty, Molly Geaney, Jenny Lerman, Michael Sticca, and Michael Saracco. As an additional bonus, prior to each performance, a local choir will entertain theatergoers.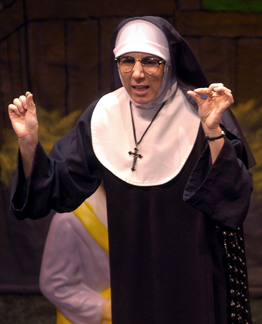 "Sister's Christmas Catechism," conceived by Maripat Donovan with Jane Morris and Marc Silvia, is the latest installment in the "Late Nite Catechism" series of unconventional comic tutorials in Catholic traditions. "Sister's Christmas Catechism" provides an opportunity to dive in and solve the real mysteries of the season. "Sister" Denise Fennell, Boston native now residing in Los Angeles, will conduct the proceedings. Again, a local choir will be featured before the performance.
Between Thanksgiving and Christmas, Stoneham Theatre will be an official drop-off location for the U.S. Marine Corps Reserve Toys for Tots Program. The mission of the program is to collect new, unwrapped toys which will be distributed as Christmas gifts to the less fortunate children in the Stoneham area. For general information about the Toys for Tots program, visit www.toysfortots.org. Toys can be dropped off at Stoneham Theatre during regular Box Office hours (Tuesday - Saturday from 1 - 6 p.m.) or during scheduled performances.
As a New Year's Eve special event, Stoneham Theatre favorite Kathy St. George will bring audiences into 2011 singing favorite show tunes and standards from The Great American Songbook. A little bubbly will help make the evening's celebrations extra bright. Performances on December 31 are set for 7 and 10 p.m.
For tickets, information and a full schedule of performances, call 781-279-2200 or visit www.stonehamtheatre.org.
Pageant Photo: Carla Donaghey
Sister's Christmas Photo: EEI