Moira Buffini's "Silence"
From GAN-e-meed Theatre Project
The final play of GAN-e-meed Theatre Project's inaugural 2010 season will be Moira Buffini's "Silence," a modern medieval comedy of power, gender, identity, and desire, to be presented at the Elizabeth Peabody House in Somerville from December 2 - 18. Producing Artistic Director SerahRose Roth directs.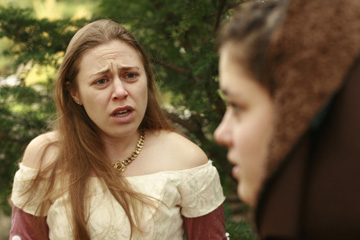 Following on the heels of the company's acclaimed all-female "Hamlet," "Silence" continues their exploration of power in gender. A comedy set in the Dark Ages of England, "Silence" tells the story of Ymma, a bitter Norman noblewoman banished to England and forced to marry 14-year-old lordling, Silence, who is worth far more than he seems. After an unexpected stand-off with the despotic King Ethelred, the two lovers -- joined by Ymma's innocent servant, Agnes, Roger, a hapless priest, and Eadric, a soldier with an eye for radiance -- embark on a journey through power, identity, gender, and desire.
Roth commented, "GAN-e-meed started with a strong and powerful mission, and in this first year, we're further grounding and defining ourselves. This first season has really reflected this identity exploration, beginning with 'Hamlet.'"
Buffini won the 1999 Susan Smith Blackburn Prize for best English-language play by a woman for "Silence." Its New York opening in 2002 prompted The New York Times to call it a "witty, provocative, prize winning comedy drama...'Silence' deserves to be seen." The Village Voice added that it was "fun to watch … compelling, taut, and effervescent … the nimble physical comedy is a treat. Buffini's wit triumphs."
Roth added, "I felt drawn to the story of 'Silence' because although it focuses on gender identity and the power -- and powerlessness -- of women, it's really an ensemble piece that is filled with both female and male stories. It's the journey of six very different people who have all been placed somewhere in life that they're not sure they want to be. They're all looking for who they are, where they are, and what to do to change (or rule) their world."
GAN-e-meed is one of the first companies to perform in the newly renovated theater at the Elizabeth Peabody House in Somerville, former home of the Theatre Cooperative.
For tickets and information, visit www.ganemeed.org.
Photo of Erin Scanlon and Madeline Schulman: SerahRose Roth