A Review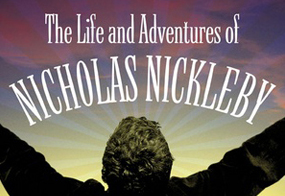 Lyric Triumphs With Epic Tale
Of Corruption and Compassion
By R. J. Donovan
On a scale of 1 to 10, the Lyric Stage Company production of "The Life And Adventures of Nicholas Nickleby Parts I and II" scores a 12.
Logistically, this show is a challenge. Twenty-four actors playing more than 150 roles in four acts spread out over two parts presented on a stage that's hardly the largest in town. The fact that they pull it off at all is an achievement. That they do it so cleanly, so crisply and with such spirit and emotion is a triumph.
Spiro Veloudos' razor sharp direction keeps the action (and the people) moving with nary a false step. Which is no small chore when the enormous company is coming and going from a multitude of directions. Janie E. Howland's beautifully designed multi leveled set takes advantage of every inch of space available. The cast also makes entrances, exits and plays portions of scenes in the aisles, effectively immersing the audience in the middle of the tale, which remains true to Dickens' beloved original.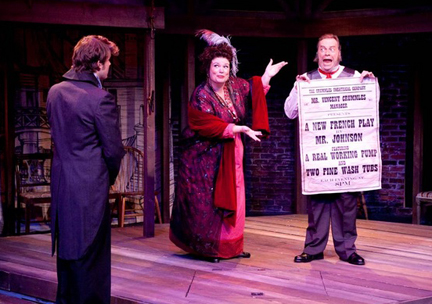 The premise is that a company of actors has gathered to tell us the story of Nicholas Nickleby by Charles Dickens. As such, they roam the stage briefly at the top of the night, welcoming people before the house lights dim.
As the story unfolds, they narrate, comment on their own character as well as others and often observe the action from the corners of the stage. The staging also calls for the cast, particularly in the second act of Part II, to physically become part of the story. They also make all the scene changes themselves, adding and removing set pieces as appropriate.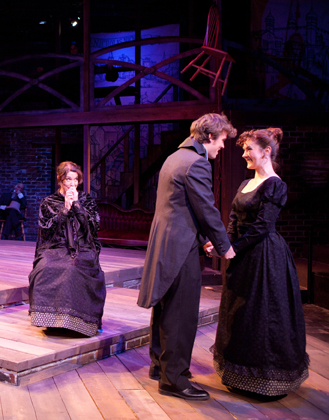 As we begin, Nicholas Nickleby has been left destitute upon the death of his father. He immediately assumes responsibility for his mother and his sister. The three reach out to their late father's brother, Ralph, a heartless businessman who takes an instant dislike to Nicholas.
While Ralph does agree to watch out for Kate and her mother, he sends Nicholas off to work at a boys' school that's nothing short of horrific. Led by the sadistic Mr. Squeers, the school abuses its students physically and emotionally, all the while promising a wonderful education. When Nicholas witnesses a particularly brutal beating at the school, he turns the tables, thrashes the headmaster and escapes. His traveling companion turns out to be Smike, the sweet but badly damaged orphan whom Nicholas saved from the beating.
While Smike initially appears to be mentally challenged, he proves there's more to him than meets the eye, and in fact, he's smarter than he's given credit for. He absolutely breaks your heart near the end of the first act when Nicholas tells him they have no home and he responds with gratitude, "You are my home."
After confronting his uncle on the deplorable conditions at the school, Nicholas is disowned by the spiteful Ralph. And so Nicholas and Smike set off on a series of adventures, the first of which finds them, almost accidentally, joining a colorful theatrical company led by Mr. Crummles Although he has no experience to speak of, Nicholas writes their next show, which features him in a leading role. A small role is also provided for the most appreciative Smike.
This marks the end of Part I. Part II resumes with a quick re-cap of the action to that point, so whether you see the two productions days or weeks apart, you'll not be at a loss.
The second part of the story follows Nicholas as he gets a job with the benevolent and endlessly cheerful Cheeryble brothers. They are as noble as Squeers is foul.
Sub plots are many, all of them leading back to Nicholas and his pursuit of pulling his family back together. Kate gets a job in a millinery shop, where she shines much to the chagrin of one of her older colleagues. When that sours, she becomes companion to a lady of emotional frailty. That, too, turns unfortunate when the wrong men darken her path.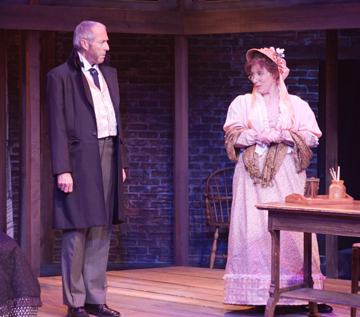 As the plot lines converge and the story moves towards its conclusion in Part II, the emotion become intense. The evil Uncle Ralph ultimately gets his comeuppance when his sneaky dealings begin to implode, costing him his fortune and more. As his world unravels, the very people who once shook in his presence turn their backs on him. He meets a dire ending.
By the final curtain, of course, the Nickleby's are reunited, expanding their circle of friends and returning to their country home having overcome obstacles and become the stronger for it. Yet despite their comforts, the production takes one last moment to remind us that poverty and suffering continue outside the door no matter how inviting our hearths may be.
The original novel, Dickens' third, was published in almost two dozen monthly installments between 1838 and 1839. So it's a subtle tip of the hat to the original serialized novel that the show is presented in distinct parts. The complete novel runs almost 800 pages long.
When David Edgar adapted the tale for The Royal Shakespeare Company in the 80s (first in London and then on Broadway), the production was split into two parts that ran more than 8 hours. In 2006, he revised his script to bring the two parts down to a more manageable length. Those two shows, Parts I and II, now clock in at around three hours each. But don't let the running time scare you off. The productions move swiftly and definitely hold your attention. Amazing as it may sound, there's never a moment that lags.
The two productions are being presented at Lyric in rotating repertory. As well, on select "marathon days," you may see both productions, matinee and evening, with a dinner break in between. Several local restaurants are working with Lyric to make this a seamless experience.
While the show has a great deal of humor in it, the productions can also be heartbreaking. Much of this comes from the relationship between Nicholas and Smike. Nicholas is the first human being to have treated Smike with any kindness, and the glow of gratitude on Smike's face is enough to melt even the coldest of hearts. And even though the story is well known, there's an audible gasp from the audience when they learn of Smike's origin.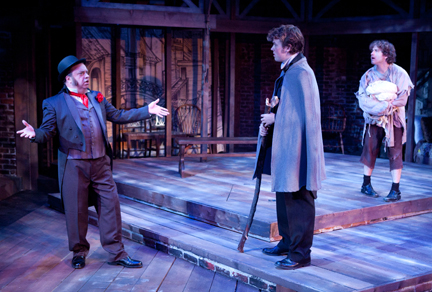 None of this could sustain an audience for six hours over two days if it weren't for both the brilliance of the story and the expert storytelling of the cast. Dickens was not shy about his intent. The message of dire times is hit home again and again. And this work, in particular, leaves no gray area. The good people are good and the bad people are bad. While Nicholas easily falls into the first category, the heartless Uncle Ralph and miserable Mr. Squeers fall into the latter.
Most of the actors play multiple roles. The cast does an incredible job shifting characters as quickly as they shift the scenery. When not in specific roles, they blend into The Ensemble to add color and move things along.
At the heart of the story's evil side, Will Lyman is powerfully threatening as the heartless Ralph Nickleby. Lyman never raises his voice because he never has to. His imposing stature is enough to send any opponent scurrying. Equally strong is Nigel Gore, first as the despicable Squeers and then as the humiliating Sir Mulberry Hawk, who torments Kate with his unwelcome advances.
Larry Coen is wonderful in three roles, as Vincent Crummles, head of the theatrical troupe, as Young Wackford, the spoiled son of Squeers, and as the affable Charles Cheeryble.
Kerry Dowling runs the gambit from the unseemly Mrs. Squeers to the theatrical Mrs. Crummles, spouting and emoting and happily gracing the world with her larger than life presence.
Peter Carey is Newman Noggs, confidante to Nicholas. He's also Ralph's long-suffering clerk -- until he's had enough and then plays a major part in Ralph's undoing. John Davin is great fun as the conniving Arthur Gride. Daniel Berger Jones does a fine job as the loud and overblown John Browdie, only to morph into the more sedate Lord Verisopht. And Maureen Keillor is the ever-talking Mrs. Nickleby.
Leigh Barrett is first seen as Miss LaCreevy, painter of miniature portraits who provides a home to Kate and Mrs. Nickleby. She later returns as the Crummles' rough-edged stage manager. Finally, she's Peg Sliderskew, a Scottish, very funny and very deaf hag who pulls a fast one contributing to Ralph's ultimate downfall.
Sasha Castroverde is so good as two such disparate characters that I had to scan the program to make sure both were actually her. She first plays Fanny, the vile daughter of the Squeers who fantasizes Nicholas has lusty feelings for her. She's both revolting and laugh out loud funny as she plays the pseudo femme fatale. Much later, she returns as the destitute but gently refined Madeline Bray, with whom Nicholas does fall in love.
Kate Nickleby is played with subtle strength by Elizabeth Rimar. Written to be more feisty than she appears in the original novel, Kate stands up her to uncle and holds her ground while remaining respectful. Rimar adds just the right touch of controlled gumption to the role while always remaining a lady.
As Smike, Jason Powers gives a touching performance as the poor abandoned soul who's ultimately given a life and a family. Suffice it to say Powers will bring a lump to your throat.
And finally, there's Nicholas, who, despite a bookful of colorful characters, must remain the focus and moral anchor of the story. As written by Dickens (and adapted by Edgars), he must be noble and devoted -- the ultimate good guy -- yet his youthful rage must erupt when necessary. Jack Cutmore-Scott delivers on all counts, delivering a nicely shaded performance that's carefully measured and utterly believable.
In the end, Veloudos, Associate Director Courtney O'Connor, the cast, crew and designers have created something very special brimming with heart and emotion and atmosphere.
The mere scope of these productions dictates that they can't be mounted very often -- either physically or financially. They deserve your time and your attention. And I defy you not to be touched, and perhaps even changed a bit, by the experience.
Because that's what really great theater can do.
"The Life And Adventures of Nicholas Nickleby, Parts I and II" is playing in repertory at Lyric Stage Company of Boston through December 19. For information, call 617-585-5678.
Production photos: Mark S. Howard
-- OnStage Boston