A Review

Political Corrections & Self Perceptions
By R. J. Donovan
SpeakEasy Stage Company's contribution to the three-part Shirley, Vermont, Festival of Annie Baker plays is "Body Awareness," playing at the Calderwood Pavilion through November 20.
For this look at the sleepy village of Shirley (it's fictional, so don't Google it), we're celebrating Body Awareness Week at Shirley State College. This is particularly exciting for Psychology Professor and Local Feminist Phyllis (Adrianne Krstansky, below left). She's kicking off each and every event of the week with a fervent welcome that's so enthusiastic she must occasionally be reeled in.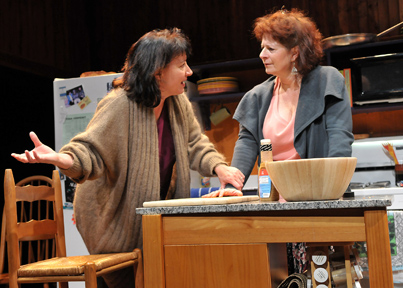 Phyllis lives with her partner Joyce (Paula Plum, at left with Krstansky), in a quaint, crunchy granola sort of home. Joyce teaches high school, but as Phyllis condescends, that's not really academia now is it.
Joyce's twenty-one year old son Jared (Gregory Pember) also lives with them. He's obviously very bright, but there's more here than meets the eye.
All is well until Body Awareness Week opens its arms to guest photographer Frank (Richard Snee), who creates artistic portraits of nude women. His work is all in good taste, with the subjects ranging from young to old, healthy to the infirmed. But Phyllis will have none of it, considering the leering "male gaze" an affront to everything in which she believes.
So imagine her angst when it turns out that Frank is assigned to stay with Phyllis and Joyce in their home during his exhibit. And as if things couldn't get any worse, Joyce not only takes a shine to him, but actually considers posing for him. Which sends Phyllis into such a nuclear meltdown that she threatens to vaporize their long term relationship.
The sub plot here is that Joyce's son may or may not have Asperger's Syndrome. He's a handful to deal with, to be sure, but he insists there's nothing wrong with him. However, as he methodically lays out his argument that's he's just fine, he may actually be substantiating every one of his mother's fears with each new bit of evidence he produces.
Over the course of the week, the family's journey runs from warm and fuzzy to shattered, although the story's end signals the possibility of strength and compromise.
As in "Circle Mirror Transformation" from the Huntington, Baker uses set blocks of time to frame her story. (Think of those old MGM movies where the calendar pages blew off the wall, month by month.) Here, it's Phyllis beginning each day's assembly on campus by scrawling the day of the week across a blackboard.
Adrianne Krstansky nicely captures both the insecurity of her character with the over-the-top excitement of a professor immersed in a program that may not seem as vital to the rest of the world as it does to her. Paula Plum balances this with a down to earth sensibility that anchors the couple. Richard Snee (who's actually married to Plum) is great as the grounded, no nonsense photographer who tells it like it is. And Gregory Pember, a recent grad of Boston Conservatory, nails the role of Jared with an exacting performance that's both smart and scary.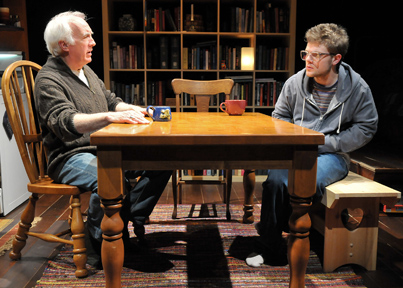 One of the best scenes in the production finds Frank and Jared alone at the kitchen table (at left) having a man to man about sex. It's real, straight forward and very funny, with both actors playing beautifully off each other.
SpeakEasy's Paul Daigneault directs with an easy hand that keeps the story very real. As well, Cristina Todesco has created a detailed set that nicely captures the essence of who these people are, nestled in the picturesque hills of Vermont.
From funny to frightening, "Body Awareness" is a slice of life look at a family dealing with the unexpected hand they've been dealt and the challenges and realities they must conquer. Mundane, sometimes. Heart-stopping, yes. And all of it very identifiable in emotional terms.
"Body Awareness" from SpeakEasy Stage Company, is at the Calderwood Pavilion at the Boston Center For The Arts, 527 Tremont Street, through November 20. For information, call 617-933-8600.
Production photos: Craig Bailey / Perspective Photo
-- OnStage Boston