---

A Christmas Carol"
Returns To North Shore
For 16 Performances Only
One of the area's favorite holiday tradition returns to North Shore Music Theatre for the first time since 2007 as spirits fly, snow falls, and a man named Scrooge learns the true meaning of Christmas.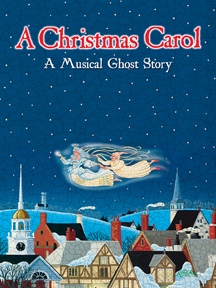 "A Christmas Carol," directed by writer and former NSMT Artistic Director and Executive Producer Jon Kimbell, will run for 16 performances only, from December 3 - 23.
Based on the Charles Dickens classic, "A Christmas Carol" tells the tale of curmudgeonly miser Ebenezer Scrooge, who's visited by the ghosts of Christmases Past, Present, and Future hoping to change his destiny and save his soul. Audiences will travel with Scrooge as he sets off on a strange and magical journey, where he ultimately discovers the true spirit of the holiday season. With special effects, traditional and original songs, and colorful costumes, "A Christmas Carol" has as entertained more than a million people including more then 100,000 students since its premiere at NSMT in 1989.

NSMT's owner and Producer Bill Hanney commented, "It is my pleasure to bring this holiday tradition back to North Shore Music Theatre. This cast, featuring David Coffee and many local area performers, is ready to spread the Holiday joy once again. When I first started to explore the possibility of reopening NSMT, it was immediately very clear how much 'A Christmas Carol' meant to the community, Every official I met with and anyone I talked to would mention this production within the first few sentences of our conversation. The decision to bring it back was a no brainer and I am looking forward to seeing it at NSMT for the first time myself."

Kimbell added, "'A Christmas Carol' is a timeless story that resonates with people of all ages and carries a message that is just as genuine and poignant now as it was when it first premiered. This musical adaptation captures the true spirit and meaning of the holiday season. It will be wonderful to see generations of families coming together once again to experience such a heart warming holiday tradition."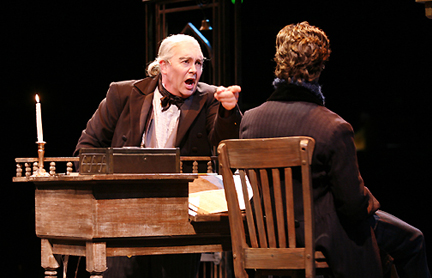 As noted, this year's production of "A Christmas Carol" will one again star David Coffee (at left), marking David's 17th year playing Ebenezer Scrooge at NSMT. The cast also includes: Maureen Brennan returning for her 8th year as the Ghost of Christmas Past and Mrs. Cratchit; Cheryl McMahon, part of the original 1989 cast, returning for her 17th year playing Mrs. Dilbur and Mrs Fezziwig; and Tom Staggs returning for his 10th year playing Jacob Marley; plus Ryan Bates, Callan Bergmann, Michael J. Borges, Brian DeLorenzo, Bonnie Fraser, Stephanie Granade, Kevin Hadfield , Katharine Heaton, Kevin Patrick Martin, Brittney Morello, Brendan Powers, Curtis Schroeger, Josh Tower, and J.T. Turner.

Throughout the run of "A Christmas Carol" NSMT will be collecting toys in the lobby for Tiny Tim's Toy Drive. The theater will be accepting unopened, unwrapped toys for boys and girls ages 2 – 12. All toys will be donated to Toys for Tots.
For tickets and information, stop by the box office at 62 Dunham Road in Beverly, call 978- 232-7200 or visit www.nsmt.org.
Production Photo: Paul Lyden