"The Mistakes Madeline Made"
In Boston Premiere
Celebrating its 5th season, Holland Productions will present the Boston premiere of "The Mistakes Madeline Made" from November 26 - December 4 at The Factory Theatre, 791 Tremont Street in Boston's South End.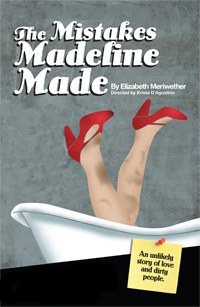 The twisted comedy by Elizabeth Meriwether tells the story of a young girl named Edna who develops Ablutophobia, the fear of bathing. Struggling with a soul-crushing job as a personal assistant and the traumatic death of her older brother, she wages a furious but funny war against all things complacent, pampered and clean. As Edna's smell starts to overwhelm her co-workers and many casual lovers, the play raises the questions: Is dirty living a political act? And is clean living even possible in these times of unrest?
The cast includes Paige Clark, Emily Culver, Nate Gundy, Bob Mussett, and Victor Shopov.
Director Krista D'Agostino commented, "'Mistakes' is a sharp and shameless story of one woman's crusade to redefine how we remember. Ms. Meriwether's absurd, yet relatable play allows us to consider the violently funny results of what happens when our most private memories cease to exist solely in our minds and collide head-on with reality (and those in it)." D'Agostino cofounded Holland Productions in 2006.
Variety previously said, "Meriwether's gift as a playwright is her ability to take what is familiar and real and view it through the distorted lens of absurdism. 'Mistakes' takes a good hard look at how the world appears to a generation of smart young kids. From a safe distance, the picture is savagely funny. But when you get close enough, it looks like hell."
Meriwether's "The Mistakes Madeline Made" was originally produced by Naked Angels Theater and was subsequently produced at Yale Repertory Theatre. Her other plays include "Heddatron," an adaptation of "Hedda Gabler" featuring live robots which was produced by Les Freres Corbusier and will receive its Chicago premiere at the Steppenwolf Theatre in 2011; "Nicky Goes Goth," which was first produced in 2004 in the New York Fringe Festival; and "Oliver," which will be workshopped by the Vineyard Theatre.
For information and tickets, visit theatermania.com.
NOTE: On Monday, November 29, Holland Productions will present a special performance of "The Mistakes Madeline Made" benefiting Dress for Success Boston. Dress for Success Boston promotes the economic independence of disadvantaged women by providing professional attire, a network of support and the career development tools to help women thrive in work and in life.
At this special performance, audience members may purchase a discounted ticket of $5 with the donation of a piece of office-appropriate jewelry. Regularly priced tickets are also available, and profits that evening will be split with Dress for Success Boston. For more information about Dress for Success Boston, please visit their web site at www.dressforsuccess.org/boston/.