Terrence McNally's "Frankie & Johnny"
Up Next At New Rep
In the City that Never Sleeps, is it possible to find real love after one night together?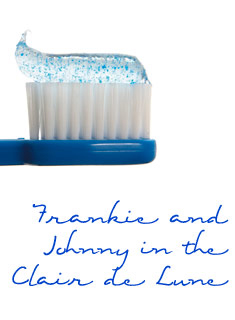 New Repertory Theatre in residence at the Arsenal Center for the Arts ponders that question in "Frankie and Johnny in the Clair de Lune," by Tony Award-winning playwright Terrence McNally. The comedy is set to play the Center's Black Box Theatre from November 28 - December 21.
In McNally's tale, a fated duo, Frankie and Johnny -- a guarded waitress and a passionate short-order cook -- discover the world is smaller than they expected. There's also no such thing as a mere coincidence. And love can be as simple as deciding to embrace it.
The production, which contains nudity and mature themes, features Anne Gottlieb as Frankie and Robert Pemberton as Johnny.
Kate Warner, New Rep's Artistic Director commented, "I am quite excited about this production. I feel the intimacy of the Black Box Theater provides a wonderful setting for our patrons to fully experience McNally's brilliant and tender comedy."

Antonio Ocampo-Guzman, director of the production, added, "I'm thrilled to be making a play at New Rep for the first time with such a remarkable group of people. I have long admired Anne and Bob's work and creating a compelling playground for them has been a very rewarding experience. I'm delighted to share this rich play with New Rep audiences as a reminder that if we listen to each other and let them see us for who we really are, love is indeed possible."
Terrence McNally has won Best Play Tony Awards for "Love! Valour! Compassion!" and "Master Class." In addition, "Love! Valour! Compassion!" received the Drama Desk, Outer Critics Circle Award, and the New York Drama Critics' Circle Awards as Best Play. Among his other works: "Corpus Christi," which was named one of the best plays of 1998 by Time; "A Perfect Ganesh," a finalist for the Pulitzer Prize; "Lips Together, Teeth Apart;" "The Lisbon Traviata;" and "It's Only a Play." He has also written the books for the highly acclaimed musicals "The Full Monty," "Kiss Of The Spider Woman," "A Man Of No Importance," "The Rink" and "Ragtime." His television scripts include "Andre's Mother," for which he received an Emmy Award.
Anne Gottlieb returns to the New Rep having played Agnes in "Silence." She most recently appeared as Catherine Givings in the SpeakEasy Stage production of "In the Next Room (or The Vibrator Play)." In 2009, her company, FortyMagnolias Productions co-produced the world premiere of "The Wrestling Patient" with SpeakEasy and Boston Playwrights' Theatre.

Robert Pemberton performed at New Rep in last season's "Speed-the-Plow." He has also been seen in "The Goat" at Gloucester Stage Company, "The Random Carusoe" at CentaStage, "Patriot Act" at The Fringe Festival in Edinborough, Scotland, and "A Midsummer Night's Dream" at Boston Theatre Works.

For information and tickets, stop by the box office at 321 Arsenal Street in Watertown, call 617-923-8487 or visit www.newrep.org. Free parking is available adjacent to the theater.