Merrimack Rep Decks The Halls
With Booth Tarkington's
"Beasley's Christmas Party"
Filled with humor, heart and hope, "Beasley's Christmas Party" receives its New England premiere at Merrimack Repertory Theatre, November 26 – December 19. Adapted by C.W. Munger from the original story by Booth Tarkington, the production is directed by Carl Forsman.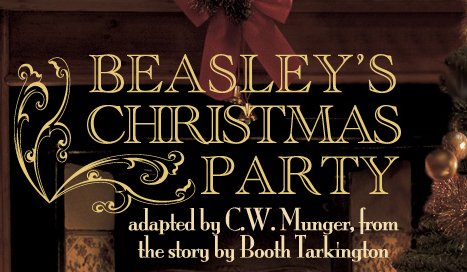 From the Pulitzer Prize-winning author of "The Magnificent Ambersons" comes a story of a curious journalist and his extremely eccentric next-door neighbor who's planning a most unusual Christmas party. Imaginatively delivered, this is described as a distinctly American and spiritually uplifting holiday story for the whole family.
The cast features Joey Collins, Crystal Finn and Tony Ward, all making their MRT debut. Collins and Ward will reprise their roles from the show's 2008 Off-Broadway production, which the New York Times called "Wholesome and winning."

In discussing the origin of the story's stage adaptation, director Carl Forsman commented, "For years, I had hoped to produce an original holiday play at my theater in New York. Finding the right source material, however, became a many-year odyssey - until a dusty copy of the short novel Beasley's Christmas Party was handed to me in a used bookstore in Sarasota, Florida by my girlfriend, who said, 'I just read the first page. Here's your Christmas play.' And she was right. My friend C.W. Munger adapted Booth Tarkington's turn-of-the century charmer into a holiday treat that can be enjoyed by everyone, and is a pleasant reminder of the joys to be found in companionship and imagination, two of the greatest gifts one could hope for. I can't wait to share it with my friends at Merrimack Repertory Theatre."

Booth Tarkington was born Newton Booth Tarkington on July 29, 1869, and grew up in Indianapolis, Indiana. He attended the prestigious Philips Exeter Academy in Exeter, NH. After high school, Tarkington returned to Indiana for his first two years of college at Purdue University, and later transferred to Princeton University.
Although he never earned his degree, he spent most of his time writing with his debut book, The Gentleman of Indiana (1899) going on to great success. Tarkington continued writing, and as more of his works were published, his profile as an author grew, culminating in Pulitzer Prizes for his novels, The Magnificent Ambersons and Alice Adams. Alice Adams was turned into a feature film in 1935 starring Katherine Hepburn, and in 1942, the film adaptation of The Magnificent Ambersons, directed by Orson Wells, was nominated for an Academy Award for Best Picture.

Much of Tarkington's major work, such as Beasley's Christmas Party (originally published in 1909), was set in Middle America, where he grew up. A major theme in Tarkington's writing was the rise of industrialization and its effects on the Midwest. His writing reflected his loyalty to small-town America.

SPECIAL EVENTS FOR "BEASLEY'S CHRISTMAS PARTY" INCLUDE:
• Lowell Night – November 27 at 8 p.m.
Lowell residents may purchase tickets for $10 at the box office from 5 - 8 p.m. Proper ID is required.

• Opening Night – November 28 at 7p.m.
Audience members are invited to join Merrimack Rep's staff and cast after the show in raising a glass of champagne to celebrate the opening of the production.
• Cookie Matinee – December 1 at 2 p.m.
Patrons may enjoy complimentary cookies and coffee in the lobby before the show, courtesy of Brew'd Awakening Coffeehaus.
• Post Show Forums – December 2, 9 and 16 at 7:30 p.m.
Audiences are invited to stay after the performance to learn the inside scoop and chat with the actors.
For information and tickets, stop by the box office at 50 E. Merrimack Street in Lowell, call 978-654-4678 or visit www.merrimackrep.org.