"Mary Poppins" Stars & Composer
Bring A Sneak Preview To Boston
By R. J. Donovan
A small group of very lucky folks were recently invited to a special preview of the Disney musical "Mary Poppins," coming to the Boston Opera House in February. As it was a rather drizzly night, most guests filing into the elegant ballroom at the Taj Hotel were holding umbrellas -- an unconscious touch definitely in keeping with the Nanny soon to be in the spotlight.
Presented by Broadway Across America in Boston, the informal evening of music and inside stories about the creation and history of "Mary Poppins" was hosted by Tom Schumacher, President of the Disney Theatrical Group. (Tickets to the show's February run go on sale November 7.)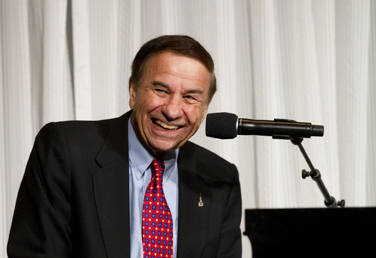 Special guests included composer Richard Sherman (at left, who with his brother Robert, wrote the beloved songs for the film) plus Catherine Walker and Nicolas Dromard (photo below) who will play the roles of Mary Poppins and Bert The Chimney Sweep, respectively, when the show opens in Boston.
The stage musical, which has been playing to packed houses on Broadway since 2006 and in London before that, is not a literal transfer of the film. Rather, it's a combination of classic moments and songs from the Disney film along with elements from the original series of Mary Poppins books by P. L. Travers.
(Schumacher reminded us that the story involves a banker worried for his job and a mother concerned about child care. What could be more topical?)
Following the success of Disney's first stage venture, "Beauty & The Beast," executives made a wish list of other properties that might transfer successfully to the stage. On the list was "Mary Poppins" as the 1964 film starring Julie Andrews and Dick Van Dyke had been phenomenally successful. However, they were soon shocked to learn they didn't actually have the rights to bring their own film property to Broadway. When the film was created, it was not necessarily standard procedure to secure stage rights when buying the film rights to a given property. And so they were stuck.
Through the years, P. L. Travers had been approached by a host of people who wanted the stage rights to her characters and stories. Bea Lillie showed interest right after the first Poppins story was published in 1934. And a young Stephen Sondheim was so interested that he wrote several songs for an adaptation that never materialized.
But Travers had historically been resistant to deal with any of it. With a deadpan smile, Schumacher lovingly called her a "nut job." However, when London theater impresario Cameron Mackintosh ("Les Miz," "Miss Saigon") approached her about the rights in 1993, the 93-year-old author reportedly assessed his qualifications and then told him, "You'll do."
The rights and the production then hovered without activity for quite a few years, until Mackintosh and Schumacher got together in 2001. Disney clearly wanted to turn the property into a stage production, but knew that the film's combination of live action and animation would have to be re-imagined. Eventually, a partnership was struck between Disney and Mackintosh, and the rest is history.
With the advent of creating a new stage musical, everyone went back to the original P. L. Travers stories to reinvent the Nanny with the magical ways.
Richard Sherman acknowledged that when they were creating the original film, they found that Travers' work lacked a strong plotline. What she had created were simple scenes and stories. What they needed was a beginning, a middle and an end, along with a problem to overcome and an inevitable solution -- otherwise known as a Happy Ending.
When handed the project by Walt Disney, Richard and his brother initially selected several chapters that they thought had potential for dramatization. As it turned out, Disney himself had already selected the same chapters.
Concerning Richard Sherman: is there anyone who doesn't know the body of work he and his brother created (. . . even if you didn't actually know they were the ones who created it.) From "Mary Poppins" to "Chitty Chitty Bang Bang," their catalog of scores is legendary. During their days on staff at Disney Studios, the Brothers reportedly wrote more motion picture musical scores than any other songwriters in the history of film -- from "The Jungle Book" and "The Happiest Millionaire" to "The Aristocats" and "Bedknobs and Broomsticks." (You are of "a certain age" if you remember "Let's Get Together" from "The Parent Trap.")
The Oscar-winning brothers also wrote the pop hit "Tall Paul" for Disney star Annette Funicello, as well as a host of songs for the Disney television shows and theme parks, including "It's A Small World," which debuted at the New York World's Fair of 1964 and is permanently embedded in every brain that's ever heard it.
No strangers to the stage, they also wrote the tuneful Andrews Sisters musical "Over Here!" as well as the Tommy Tune musical "Busker Alley" which has yet to make it to Broadway despite several tries.
As Schumacher introduced Sherman to the receptive crowd, he said, "You can't have him in a room with a piano and not ask him to sing."
And to have him sit at the piano and sing and reminisce was a genuine treat. It was also fun to hear him divulge that while people often assume the classic songs from "Mary Poppins" were the result of great inspiration, the reality is often quite different. For example, "A Spoonful of Sugar" came about as a result of Robert's young son receiving a dose of polio vaccine in school. The boy said that they gave it to him on a spoon with a sugar cube to make it easier to swallow.
As Sherman played snippets of songs from the film, it was endearing to see the 200 adults in the ballroom melt into youngsters. While the evening wasn't arranged as a sing-a-long, that's what it quickly became.
Among the additional musical numbers written for the stage production by George Stiles and Anthony Drewe, there's a song called "Practically Perfect," which, of course, is how Mary Poppins describes herself. But did you know there was a Sherman Brothers song called "Practically Perfect" written for the film only to be cut in favor of "Spoonful of Sugar?" Always thrifty, the Shermans simply recycled part of the cut tune to create "Sister Suffragette."
Whether on film and on stage, everyone involved in "Poppins" agreed that the lovely song"Feed The Birds" represents the true heart of the story -- life lessons about unselfish love and nurturing.
It should be noted that the stage production is a bit darker than the film. However, having seen the show in New York shortly after it opened, I can tell you it's a wonder to watch. The entire home at Number Seventeen Cherry Tree Lane appears on stage like a huge three story dollhouse. The nursery in the attic (otherwise known as Mary's quarters) lifts off the top of the house and floats down to stage level to give us a close-up look. Statues come to life in the Park, toys come to life in the nursery, there's a competing Nanny, a magical Sweet Shoppe, and more.
Magical things happen throughout, of course, including the musical number that finds Bert tap-dancing up a wall and across the proscenium arch of the stage, upside down. And at night's end, Mary triumphantly flies off to her next assignment.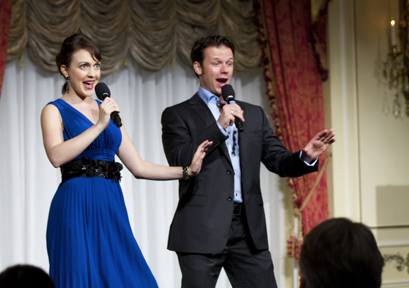 Speaking with Catherine Walker, Schumacher noted that audiences are truly amazed when Mary puts up her umbrella and flies away during the finale.
While every theater handles that flight a little differently based on the physical space of the venue, Mary always flies up and out over the crowd. Schumacher said that if you're sitting in the balcony, "you feel like you can almost reach out and touch her." To which Walker quickly added with a grin, "You can't."
Walker comes to the National Tour of "Mary Poppins" having played the title role on Broadway. Nicolas Dromard has also appeared in the Broadway company as well as on tour. He comes to the current tour after playing Fiyero in "Wicked" for the past year and a half.
And with that, Walker and Dromard presented an extended medley of songs from the show (photo above). Following a rousing round of applause, everyone returned to the drizzly weather outside, this time accompanied by the gift of an official "Mary Poppins" Parrot Head Umbrella to shield them from the rain.
In the end, a practically perfect evening, no?
"Mary Poppins" will play the Boston Opera House for five weeks, February 17 - March 20, 2011. Starting November 7, tickets will be available at the box office or by visiting www.broadwayacrossamerica.com
Featuring the Academy Award-winning music and lyrics of Richard M. Sherman and Robert B. Sherman, "Mary Poppins" is directed by award-winning Richard Eyre, with co-direction and choreography by Tony Award-winning Matthew Bourne. The show's book is by Oscar-winning Julian Fellowes, with new music and lyrics by George Stiles and Andrew Drewe.
Photos: Seacia Pavao Photography