---

ArtsEmerson: The World on Stage
Presents Boston Premiere Of
"The Method Gun"
The inaugural season of international theater programming from ArtsEmerson: The World on Stage continues with the Boston premiere of Rude Mechs' "The Method Gun," a work The Austin American Statesman calls ""sweet, irreverent and terribly funny." The play will be performed at the Paramount Black Box, located at 559 Washington Street in Boston's Theatre District, from Oct. 13 - 17.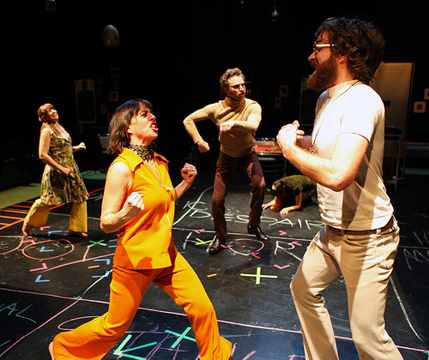 Written by Kirk Lynn and directed by Shawn Sides, "The Method Gun" explores the life and techniques of Stella Burden, an apocryphal actor-training guru of the 60s and 70s, whose sudden emigration to South America still haunts her most fervent followers. Ms. Burden's training technique, "The Approach" (often referred to as "the most dangerous acting technique in the world"), fused Western acting methods with risk-based rituals in order to infuse even the smallest role with sex, death and violence.

Using found text from the journals and performance reports of Stella Burden's company, "The Method Gun" re-enacts the final months of her company's rehearsals for their nine-years-in-the-making production of "A Streetcar Named Desire." Stella left the company under mysterious circumstances in 1972. Diaries and letters from actors in the company express a sense of desperation, inadequacy and frustration inherent to the process of creating meaningful work for the stage and in everyday life. "The Method Gun" bounces between interior monologues, rehearsal sequences of "Streetcar" and group interactions - all gleaned from historical documents -- to express a longing for the return of inspiration and a more believable presentation of self in everyday life.
American Theatre Magazine called the piece " charming... gorgeously rendered... both stunning and haunting," while the Chicago Sun-Times said "It's both fascinating and terrifying, in a bizarre sort of way."

Since 1995, Austin Texas's Rude Mechs has used performance to explore collectivity, collaboration and community. The result has been a mercurial slate of 22 original theatrical productions ranging from Low-Fi, Agit-Prop, Lec-Dems to Multi-Media, Romantic-Era, Closet Dramas. What they hold in common is bold physicality, intellectual savvy, a preference for the actor above the character, and an irreverent sense of humor. This will be their Boston debut.
For tickets and information, call (617) 824-8000 or visit www.artsemerson.org.
Note: This show contains nudity.