---

Boston Center for American Performance
Opens November 6 with "Good"
The Boston Center for American Performance opens its third season with C.P. Taylor's "Good," directed by BCAP's artistic director Jim Petosa. Performances at Studio 210 of the Boston University Theatre at 264 Huntington Avenue, run from November 6 - 21. BCAP is the professional extension of the Boston University School of Theatre.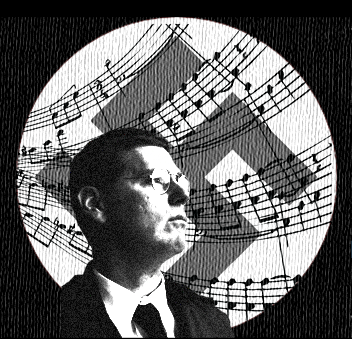 Taylor's self-described musical comedy explores the life of a liberal German professor, seduced by the Third Reich, who unwittingly betrays both his loved ones and his morals. Audiences will find this cautionary tale particularly resonant in today's political climate.
The cast includes Michael Kaye, Tim Spears, Paula Langton, Judith Chaffee, Alicia Hunt, Hayley Holbrook, Mason Sand, Stephen Elrod, Edmund Donovan, Alex Schneps and Jeff Hathcoat.

How does it happen to a "good" man? How does it happen to a "good" people?
Set in Germany at the height of Hitler's rise to power, Taylor's masterwork takes place partly inside the mind of a "good" man, Professor John Halder. Inspired by his mother's illness, Halder publishes a novel advocating for compassionate euthanasia. When the book is picked up by powerful political figures for use as government propaganda, Halder enjoys the success and attention until he realizes his work is jeopardizing the welfare of his family and friends.

In his preface to the play Taylor wrote, "It still seems that there are lessons to be learned if we examine the atrocities of the Third Reich as the result of the infinite complexity of contemporary human society, and not a simple conspiracy of criminals and psychopaths."

Petosa explained, "We hear constant exhortations to never forget the history of the Holocaust. What compels us about C.P. Taylor's play is its insistence on the tragic banality of what brought us to the inhuman brink of that terrible moment. What frightens us is its possibility not its impossibility; the premise that such evil is thinkable not unthinkable. And while the Nazi story is an extreme one, are there degrees of it that exist in our own lives in ways that demand that we remain alert? The play haunts with the question."
British playwright C.P. Taylor wrote almost 80 plays, most inspired by his Jewish heritage and his Socialist viewpoint. In addition to Good, he is the author of "Bread and Butter," "Lies about Vietnam," "Next Year in Tel Aviv," "Withdrawal Symptoms," "Some Enchanted Evening," "And a Nightingale Sang," and "Bandits." He died in 1981 at the age of 52.

The BCAP initiative aims to foster significant interaction between members of the professional performing arts community and the faculty and students of the Boston University College of Fine Arts School of Theatre. The goal is for these collaborations to have a significant impact on the College's overall educational mission, become a consistent source of inspiration for the creation of both new work and new approaches to existing work, and provide the College with a professional extension of its expanding and diverse aesthetic.

In keeping with the BCAP mission, Petosa has assembled a team of collaborators for "Good" that represents each facet of the Boston University School of Theatre community. The acting and design teams feature theater faculty, staff, BFA and MFA students, alumni and theater minors.

BCAP launched in October 2008 with productions of Tennessee Williams' classic "The Glass Menagerie" and Doug Wright's one-man play "I Am My Own Wife." The company's second season featured productions of David Rabe's "A Question of Mercy" and Paula Vogel's "How I Learned to Drive." BCAP's 2010-2011 season will continue with a spring production of "The Road to Mecca" by South Africa's preeminent playwright Athol Fugard, running February 16 - March 5, 2011.
For tickets and information, stop by the box office, call 617-933-8600, or visit www.bostontheatrescene.com.