---

Obie Award-Winning "Circle Mirror Transformation"
Opens October 15 At The Huntington
Part Of The Shirley, VT Plays Festival
The Huntington Theatre Company continues its 29th season with "Circle Mirror Transformation," an acclaimed new comedy by Annie Baker. Melia Bensussen directs. Performances run October 15 – November 14 at the Calderwood Pavilion at the Boston Center for the Arts.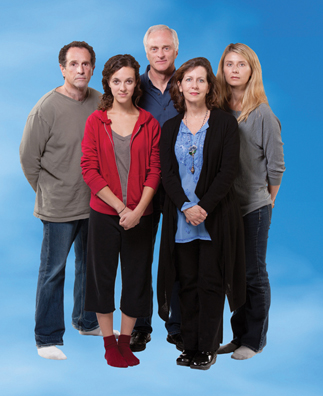 In "Circle Mirror Transformation," four students in Marty's creative drama class experiment with harmless theatre games.
Set in the Shirley, Vermont, community center, hearts are quietly torn apart and tiny wars of epic proportions are waged and won in this gentle new comedy that mixes antic sadness with hilarious detail.
The ensemble cast includes Boston favorites Michael Hammond ("Prelude to a Kiss" at the Huntington) as James, and Jeremiah Kissel ("Two Men of Florence" and "The Cherry Orchard" at the Huntington) as Schultz, along with Betsy Aidem as Marty, Nadia Bowers as Theresa, and Marie Polizzano as Lauren.
"Circle Mirror Transformation" is the Huntington's contribution to The Shirley, VT Plays festival, a landmark local collaboration among three Boston theatre companies this fall to produce breakout writer Annie Baker's first three plays .
The festival also includes "Body Awareness," produced by SpeakEasy Stage Company (October 22 – November 20) and "The Aliens," produced by Company One (October 22 – November 20). With all three set in the fictional town of Shirley, VT, the plays will run together in the first-ever festival dedicated to the work of this wryly observant young writer, which is being curated by the Huntington.

The Shirley, VT Plays festival presents a special opportunity to examine the rich and varied lives of a small town filled with humor, good intentions, unintended consequences, and accidental beauty. Audiences will experience three miniature portraits of Shirley, VT, a town not found on any map.

As the plays have staggered runs beginning October 15, audience members will have the opportunity to see all three between October 22 and November 14. Special performance schedules have been designed on six days so that theatergoers can see all three productions consecutively in "marathon" format: October 23, 30, November 6, 7, 13, and 14.

In discussing "Circle Mirror Transformation," Melia Bensussen commented, "It is a play that, in the tradition of great art, teaches you how to be a better human being with great lightness and a sense of humor. It uses an acting class as a metaphor but it's really much more than about acting. It's about being and how we can actually be more present and more fully alive in our lives. I think that's what theatre is there to teach us."

Peter DuBois, Artistic Director of the Huntington added, "I fell in love with the characters in these plays, and with the idea of creating a fictional New England town at the Calderwood Pavilion. Each of Annie's plays stands on its own with imagination and subtle humor, and seen together, they form a striking portrait of Shirley, Vermont. The same is true for this festival; each company has its own identity and audience, but together we hope to bring out the richness of a writer's vision in the creation of this fully imaged community."
For tickets and information, stop by the box office, call 617 266-0800 or visit www.huntingtontheatre.org.