SpeakEasy Stage Explores
What's "In The Next Room"
September 17 - October 16
SpeakEasy Stage Company will kick-off its 20th Anniversary Season with the Boston premiere of Sarah Ruhl's acclaimed Broadway comedy "In The Next Room (or the Vibrator Play)," running September 17 – October 16 at the Stanford Calderwood Pavilion at the Boston Center for the Arts, 527 Tremont Street in Boston's South End.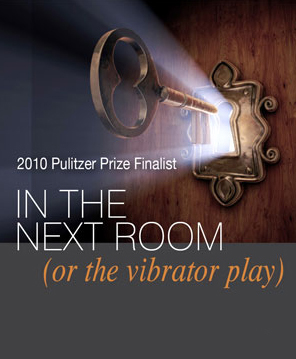 Both a 2010 Pulitzer Prize finalist and a 2010 Tony Nominee for Best Play, this provocative, laugh-out-loud and touching play is based on the bizarre historical fact that in the 1880s, at the dawn of the age of electricity, doctors used vibrators to treat "hysteria" in women and some men.
Rhul has said that the idea for the play came from reading Rachel Maines' book The Technology of Orgasm, in which Maines points out that, "from the time of Hippocrates until the 1920s, massaging 'hysterical' female patients to orgasm was a staple of medical practice among Western physicians." The vibrator, states Maines, "first emerged as an electromechanical medical instrument in direct response to demand from physicians who, far from enjoying the implementation of pelvic massage, sought every opportunity to substitute the services of midwives and, later, the efficiency of mechanical devices."
Set in a spa town in upstate New York during the 1880s, Ruhl's play focuses on Dr. Givings and how his practice of this new electric vibrator therapy affects his entire household.
"In The Next Room (or the Vibrator Play)" was the first of Ms. Ruhl's works to be presented on Broadway. Her other plays include "The Clean House" (Pulitzer Prize finalist, 2005); "Passion Play," (Pen American Award); "Dead Man's Cell Phone" (Helen Hayes Award for Best New Play), and "Eurydice." Originally from Chicago, Ms. Ruhl received her MFA from Brown University where she studied with Paula Vogel.
Norton Award-winner Scott Edmiston will direct this Boston premiere production, featuring Marianna Bassham and Anne Gottlieb. Ms. Bassham previously appeared at SpeakEasy in "Blackbird" (for which she received the Elliot Norton Award as Best Actress) and "Reckless." Ms. Gottlieb previously appeared at SpeakEasy in "The Wrestling Patient" and "The Women." The company also featuresCraig Wesley Divino, Frances Idlebrook, Lindsey McWhorter, Dennis Trainor Jr. and Derry Woodhouse.
"In The Next Room (or the Vibrator Play)" premiered at the Berkeley Repertory Theatre on February 5, 2009, where it was directed by Les Waters. The play officially opened on Broadway on November 19 at the Lyceum Theatre, where it was again directed by Mr. Waters. The Broadway production featured Laura Benanti and Michael Ceveris and ran for a limited engagement of 60 performances.
For tickets or more information, stop by the Calderwood box office, call 617-933-8600 or visit www.SpeakEasyStage.com.