Lyric Stage Presents
New England Premiere
Of Epic Two-Part "Nicholas Nickleby"
October 21 - December 19
Lyric Stage Company of Boston will present the New England premiere of the Olivier and Tony Award winning theatrical epic "The Life And Adventures Of Nicholas Nickleby - Parts I and II" from October 21 - December 19.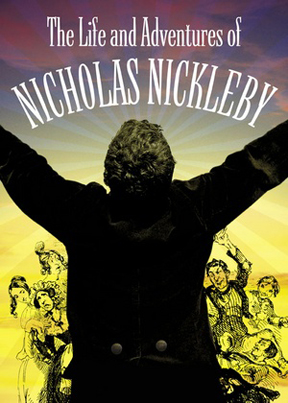 Called "the theatrical event of a lifetime," by American Theatre Magazine, the two part production with music is written by David Edgar, adapted from the timeless Charles Dickens novel.
Both parts will be presented in rotating repertory, with five "Marathon Days" (November 13, 28, December 1, 4 and 18) where Parts I and II will be performed on the same day with a 2 hour dinner break between.
Lyric's Producing Artistic Director Spiro Veloudos commented, "This extraordinary piece has never been produced in New England and we are pulling out all the stops for this remarkable two-part play with music featuring over 150 characters."
He added, "the new, shorter adaptation streamlines the narrative, and captures Dickens' genius for combining exuberant characters, theatrical spectacle, and genuine emotion."
The Lyric's production of "Nicholas Nickleby" includes 25 of the Boston area's most talented actors, most of them playing multiple roles. The cast features Will Lyman (Ralph Nickleby), Jack Cutmore-Scott (Nicholas Nickleby), Peter A. Carey (Newman Noggs), Maureen Keiller (Mrs. Nickleby), Larry Coen (Vincent Crummles), Nigel Gore (Wackford Squeers), Leigh Barrett (Miss LaCreevy) Kerry Dowling (Mrs. Squeers/Mrs. Crummles), Jason Powers (Smike), John Davin (Arthur Gride), and Neil A. Casey (Mr. Mantalini) .
In the classic tale, young Nicholas Nickleby, left penniless by the death of his father, assumes responsibility for his mother and sister while seeking help from his Scrooge-like Uncle Ralph. Taking an instant dislike to Nicholas, Ralph sends him off to teach in a school run by the sadistic Wackford Squeers. Nicholas subsequently decides to escape, taking with him the orphan Smike, one of Squeers' most abused young charges. The two embark on a series of adventurous encounters with an array of humanity's worst and best greedy fools, corrupt lechers, cheery innocents, and selfless benefactors.
"Nicholas Nickleby" was Charles Dickens' third novel. As with so much of his work, it was originally serialized in the form of monthly installments. A total of 65 chapters were released between March of 1838 and September of 1839. An enormous success, it was subsequently published in its entirety in the form of a novel. Dickens followed "Nicholas Nickleby" with "The Old Curiosity Shop" in 1940.
The play's original Royal Shakespeare Company production in 1980, starring Roger Rees as Nicholas, was an eight hour event presented over two performances. Hailed by audiences, "Nickleby" transferred from London to Broadway in 1981. Television audiences were able to experience the play via a four part mini-series that captured a live performance. Airing on PBS, the Mobil Showcase Theatre presentation received an Emmy Award for Best Mini Series. The play was revised and shortened in 2006.
For tickets and information, stop by the Lyric box office at 140 Clarendon Street, call 617-585-5678 or visit www.lyricstage.com.