God Bless Us Everyone,
Trinity Rep Is Searching For Tiny Tim
Open Call Child Auditions For "A Christmas Carol" September 18
Does your child have what it takes to touch the hearts of a holilday audience? If so, listen up.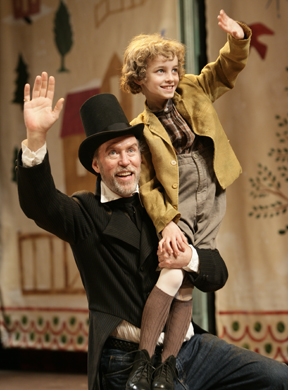 Trinity Repertory Company will be holding an open call for child actors on Saturday, September 18, from 9:00 a.m. to 1:00 p.m. at Cardi's Furniture Superstore on Route 1A in South Attleboro, for its 34th annual production of Charles Dickens' "A Christmas Carol." The production will be directed by Michael Perlman.
Children ages 8-12 are welcome to audition, although children who turn 13 before December 31, 2010, are not eligible. No appointment is necessary for the auditions.
Before arriving at the audition, all children and parents should visit Trinity Rep's website at www.trinityrep.com to download the Audition Packet, comprised of the Audition Fact Sheet and Child Actor Audition Info, which includes information about rehearsal schedules and requirements, along with the Audition Script.
All those who audition should be prepared to sing 30 seconds of their favorite holiday song (without accompaniment). Children must also be prepared to read the audition scene.
Rehearsals for the child actors will begin the week of October 27. Performances of "A Christmas Carol," as adapted by Adrian Hall and Richard Cumming and presented by Cardi's Furniture Superstores, will run November 18 - December 31 at Trinity Rep in Providence.
Since its founding in 1963, Trinity Repertory Company has earned a reputation as one of the most respected regional theaters in the country. In addition to "A Christmas Carol," the theater's 2010-2011 season includes "Camelot" by Alan Jay Lerner and Frederick Loewe; "Absurd Person Singular" by Alan Ayckbourn; "It's a Wonderful Life: A Live Radio Play" by Joe Landry; "The Crucible" by Arthur Miller; "Yellowman" by Dael Orlandersmith; "Steel Magnolias" by Robert Harling and "The Completely Fictional—Utterly True—Final Strange Tale of Edgar Allan Poe," a new play by Stephen Thorne.
For ticket information or to subscribe, call the box office at 401-351-4242 or visit www.trinityrep.com.